Take that @FFA!

Listen to the players, to legends, to Australia's Golden Generation, @CraigMoore_18 and his WC2006 fellows.

Their powerful statement on the @FootballQLD madness: They fully support @BonitaMersiades.

'In going after one of us, you are going after all of us.' pic.twitter.com/PD3R3awc3F

— SPORT & POLITICS (@JensWeinreich) August 4, 2020
This is part 3 of our series on alarming problems of Good Governance in Australian football federations, on the suppression of free journalism, threats to whistleblowers and, in particular, on the curious case of Benjamin Richardson, president of Football Queensland (FQ).
According to whistleblower testimony Football Queensland hired an expensive crisis management consultancy following publication of articles in the Brisbane Courier-Mail ('Let's tackle junior sport's absurd fees'/paywall) and Football Today ('Cost of paying increases in Queensland') about its chairman Ben Richardson paying himself $44,000.
The regional football association may have paid as much as $15,000 for these 'crisis management' services to Rowland, which was once Australia's largest independent PR agency and is now a part of the Fleishmanhillard network. FQ is currently engaged in an expensive and spurious defamation case against Australian whistleblower and writer, Bonita Mersiades over one of the articles.
Benjamin Richardson and Robert Cavallucci, CEO of Football Queensland, instigated by their lawyer Ashley Tiplady (Mills Oakley), want to destroy Mersiades for her factually correct report. They are chasing a grand total of $800,000 reparations from Mersiades – plus interest – in the Queensland courts.
Not only do they use football's money for their dubious legal attempt to destroy Mersiades; they waste even more of FQ's money – which belongs to mums and dads and their kids who pay their fees in good faith – for the services of an expensive PR and crisis management company.
We have written about this dubious case here, and we provided the most important documents that will, perhaps, lead to investigations of relevant authorities.
We also have extensive whistleblower testimony from Football Queensland employees who have served under Richardson and Cavallucci.
Bonita Mersiades' article was published on 24 January. Rowland were called a few days later, right after Peter Gleeson's opinion piece in the Brisbane Courier Mail.
The latter article, according to a Football Queensland staffer who was present, left the organisation's CEO Robert Cavalluci 'clearly rattled'. Senior staff members, as well as FQ's president Richardson, were called to a meeting.
Rowland offers an 'unrivalled issues management track record' as well as '24/7 crisis support' and boast of the 'expertise, insights and intuition to help organisations identify and mitigate reputation risks.' Its clients have included companies that are no strangers to controversy in Queensland: Rio Tinto, Queensland Resources Council, the state's largest mining lobby group, McDonald's, and BHP.
'We help you make a stronger connection between what you say and what you do by giving you the voice and confidence to tell your story consistently, and with conviction, across all touchpoints,' say Rowland, but these services come at a price: typically $500 per hour, we have been told.
We understand that Rowland's PR consultants led the discussion at the meeting with FQ and 'were concerned about the invoice and perceptions of conflict of interest.'
When are the supine Australian sports media going to follow up on this?

I had this ten years ago when reporting on its dodgy World Cup bid. Journos calling me up with, 'Great story mate, but my editor won't let me run it…'

Grow some cojones, lads.

— James Corbett (@james_corbett) August 5, 2020
Cavallucci and Richardson allegedly told the meeting that Richardson was paid for his work as 'acting CEO and that they had board approval and legal advice on that'.
This has been described to us by a senior FQ staff member as 'bullshit'.
In fact, no one knows what the board approval is … several of the regional associations have written to Richardson asking for the minutes, but their requests were denied.
To divert attention from the looming PR crisis Rowland advised on a strategy of garnering a list of 'new initiatives' that were the 'reason' for the increase in fees at FQ.
On a subsequent email – understood to have been drafted in consultation with Rowland – sent to a concerned stakeholder within the Queensland game on 12 February, Ben Richardson talks in broad strokes about 'connecting with our community' and 'focus on keeping the costs of participation fair and reasonable', while listing ten 'key initiatives'.
Read a part of his email: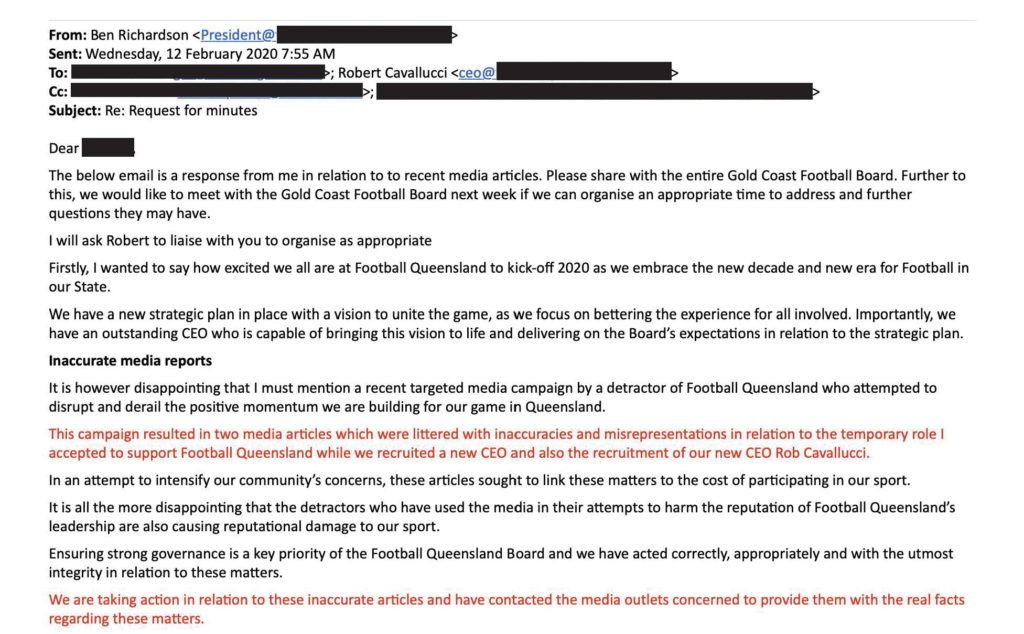 He does address 'the increased remuneration of our new CEO', though without mentioning that Robert Cavalluci is earning 89% more than his predecessor – a hike almost wholly covered by an increase in member fees.
The 'context' of this increased renumeration, around $320,000, blathers Richardson, is that Cavalluci was shortlisted for the FFA CEO position – 'a much higher paying role' – and was 'benchmarked against comparable roles within the Australian market.'
We found this surprising, given that the average taxable income of an Australian CEO is $170,336 and FQ is an SME employing less than 30 members of staff.
Richardson made unproven claims on a 'targeted media campaign by a detractor'. He wrote:
'This campaign resulted in two media articles which were littered with inaccuracies and misrepresentations in relation to the temporary role I accepted to support Football Queensland while we recruited a new CEO and also the recruitment of our new CEO Rob Cavallucci.
… We are taking action in relation to these inaccurate articles and have contacted the media outlets concerned to provide them with the real facts regarding these matters.'
Richardson did not provide a single detail for his claims of 'inaccuracies' – not only in February but until now.
Finally, in June, Richardson and Cavallucci filed a lawsuit against Bonita Mersiades, the freelance writer, but not against the Brisbane Mail-Courier, part of the empire of Rupert Murdoch.
According to our sources, Rowland worked with FQ's Marketing, Media and Partnerships General manager, Tracy Griersen, throughout February and possibly beyond, advising on stakeholder relations. One FQ source estimated that they had billed '30 hours' – meaning a bill of at least $15,000 – but this is a guess.
FQ president Benjamin Richardson has once more not responded to our enquiries.
We have also contacted Alasdair Jeffrey, Executive Director at Rowland. Unfortunately he did not respond.
We asked Richardson if a $500 an hour PR company represented fair value for money and whether such funds may be better used employing a media officer who answered questions. To date we have dozens of unanswered questions sent over the course of many emails. Once more Richardson chose not to respond.
After the publication of this third article on the dubious acts @FootballQLD @FFA, criminals from Australia attacked my computers and my website tonight.

The attack was blocked. But the attack on author @BonitaMersiades continues. She needs our supporthttps://t.co/edkqXyqyua

— SPORT & POLITICS (@JensWeinreich) August 5, 2020
---
We have reached out to Football Queensland chairman Ben Richardson with a series of questions about Rowland's involvement in this matter. He has chosen not to respond to our enquiries. The full list of questions is published below.
On what grounds and who decided to bring in external consultants to advise on the issue?
Why was this matter not dealt with internally? We have noticed that Football Queensland has trouble in responding to simple media requests. Would such sums not be better spent employing a competent media manager?
How many hours have Rowland invoiced for and at what total cost?
We believe Rowland expressed concerns about the invoice and perceptions of conflict of interest. How did you respond to this?
We understand that you told the meeting that you were 'acting CEO' at the time of sending the invoice and that you had board approval and legal advice on that. Could you please share this with us?
A member of you own staff has described this alleged self-description as 'acting CEO' as 'bullshit' and 'an outright lie'. Why would that person use such extreme language?
At what point in Rowland's expensively acquired services was it suggested that suing a website for defamation was a good idea? Was it suggested to you that a successful case – or retraction of a story – would play out well to the aforementioned stakeholders?
Why did you decide to sue Football Today (proprietor, B. Mersiades) and not the Brisbane Courier-Mail (proprietor, R. Murdoch)?
On an email you sent out in February – presumably on the advice of Rowland – to FQ stakeholders you described: 'Two media articles which were littered with inaccuracies and misrepresentations in relation to the temporary role I accepted to support Football Queensland while we recruited a new CEO and also the recruitment of our new CEO.'
We presume that these refer to the aforementioned piece in Football Today and the Brisbane Courier-Mail.
Please advise:
Where these 'inaccuracies' lie within the aforementioned articles – because your court submissions don't do that?
The temporary role – which you allegedly referred to as 'interim CEO' – is not mentioned in the CV or supplementary statement you submitted ahead of your election as FQ president last month. Why not? Surely this is a crucial qualification for the role?
---
Do Rowland provide good value for money? Would such sums spent on external PR advice not be better spent on grassroots football or lowering membership fees?
We think Football Queensland's present PR and Good Governance disaster tells its own story.
Stay tuned. More to come.
---
Sie wollen Recherche-Journalismus und olympische Bildung finanzieren?
Do you want to support investigative journalism and Olympic education?
SPORT & POLITICS Shop.
Subscribe to my Olympic newsletter: via Steady. The regular newsletter is free. Bur you are also free to choose from three different payment plans and book all product at once!
---