by Andrew Jennings, Transparency in Sport
presentation to Senate Education, Culture and Sports Committee in Brasilia, Wednesday October 26, 2011.
[youtube YfYucw22KOY nolink]
The Truth about FIFA Corruption & Ricardo Teixeira – A verdade sobre FIFA Corrupção & Teixeira Ricardo
Good morning. Thank you for your invitation.
I have been an investigative reporter for 45 years. I research and acquire confidential documents.
Then I write books and articles and make investigation films for the BBC.
I have been investigating FIFA for 10 years.
I have considerable experience in investigating organised crime and I can assure you that FIFA ticks all the boxes in the academic definition of an Organised Crime Family.
Today I want to tell you about the latest corruption crisis at FIFA and how it will impact on the 2014 World Cup.
But first – Meet some of the members of FIFA's 23-man Executive Committee.
[JW says: I do not publish all pictures and videos from AJs presentation, and this can be a little bit confusing for my readers, I am sorry.]
# Jim Boyce is Britain's vice-president. He is silent about corruption. He can expect to pocket around US$1 million in FIFA payments in the next 4 years.
# Prince Ali from Jordan. A lightweight. Put in place by Blatter to get rid of one of his critics.
# Julio Grondona from Argentina, chairman of FIFA's Finance Committee, currently under investigation for black money accounts in Switzerland. In June 2003 he said on TV, 'I don't believe a Jew can ever be a referee at our senior level because it's hard work and, you know, Jews don't like hard work.'
# Worawi Makudi from Thailand has been named in several FIFA scandals and is currently under investigation for misuse of FIFA development money.
# Manilal Fernando from Sri Lanka is under investigation for his possible involvement in the notorious US$1 million vote-buying scandal set up Qatar's Mohamed Bin Hammam in Trinidad in May.
# Nicolas Leoz from Paraguay, at left, president of Conmebol. Swiss court documents reveal he took US$ 730,000 in bribes from the former FIFA marketing company, ISL. Blatter refuses to investigate.
read more:
# Issa Hayatou is president of African football and being investigated by the International Olympic Committee for taking a bribe from the ISL company. It was paid to him by the man he's talking to here. [Jean-Marie Weber, ISL-bagman]
Currently Ricardo Teixeira is Blatter's choice to succeed him as FIFA President:
I will have more to say about Mr Teixeira later.
# Chuck Blazer from New York. For the last 21 years Blazer and Jack Warner looted the Confederation of Central, North American and Caribbean countries. Chuck Blazer's Caribbean bank accounts are now being examined by the FBI.
In December 2006 – at the conclusion of a law suit in New York bought by MasterCard against FIFA – Judge Loretta Preska stated:
Mr Blazer's testimony was generally without credibility, based on his attitude and evasive answers on cross examination …
She added:
Mr Blazer's testimony is rejected as fabricated.
FIFA paid MasterCard US$90 million to settle the case.
# Rafael Salguero from Guatemala was nominated by the now discredited Jack Warner. I won't repeat the allegations about Mr Salguero!
This is the biggest scandal ever at FIFA. It's the payment of bribes to FIFA officials by the ISL sports marketing company in return for World Cup contracts. It is currently making news in Brazil – and globally.
Let's introduce this saga through some of the activities of FIFA General Secretary Jerome Valcke.
Here he is with a friend.
In early 2001 Valcke worked for a French company hoping to buy the assets of the bankrupt ISL company. His team examined the ISL books. He discovered the massive, secret kickbacks to FIFA officials.
He tried to use this information to re-negotiate contracts with FIFA. On April 30 2001, Mr Valcke received this astonishing letter from Blatter:
The highlites are:
Threats were specifically directed against both FIFA and "certain gentlemen of FIFA."
And …
The position of FIFA in no way will ever be altered by any threats or attempts of blackmailing."
Two years later Blatter hired this 'blackmailer' to be his new head of marketing! You might wonder, why?
Like Chuck Blazer, Mr Valcke also gave evidence in the MasterCard case. Their lawyer Mr Martin Hyman accused Mr Valcke of lying.
Disraeli once said there were three kinds of "lies, darned lies and statistics. " We have learned from the FIFA Marketing Group that there are more. We have learned about the six degrees of prevarication, white lies, commercial lies, bluffs, pure lies, straight untruths and perjury.
And:
Mr Valcke even lied when testifying about his lies. But in FIFA's world, that's perfectly okay.
That was in December 2006. It was an international scandal.
Sepp Blatter announced that Jerome Valcke was fired!
Six months later Blatter brought him back … promoted to be FIFA General Secretary! Again – what hold does the blackmailing Valcke have over Blatter?
[JW says: Read more about 2006/2007 FIFA-lies, included links.]
The ISL contracts-kickbacks story began in 1974 when German businessman Horst Dassler paid bribes to get Joao Havelange elected president of FIFA.
Mr Dassler, from the family who owned Adidas, created the ISL company and wanted FIFA's lucrative World Cup contracts. Did Havelange put his hand out for money? Or did Dassler offer the bribes? Who made the first move? Mr Havelange could tell us.
Horst Dassler died in 1987. Havelange remained FIFA president, Sepp Blatter was his General Secretary. In between them, here, is Jean-Marie Weber, formerly Dassler's assistant, who became notorious as the 'Bagman' who delivered the ISL bribes. He admitted this in court in 2008.
A key player in the conspiracy to privatise the people's sport was IOC president Juan Antonio Samaranch. One of the IOC's dirty secrets is the 37-year fascist history of Samaranch, former sports minister for Franco. There he is with his arm up, fourth from right. Samaranch and Dassler worked together to deliver sport to the sponsors.
In 1996 the American IMG company tried to break ISL's monopoly on FIFA contracts. IMG offered US$1 billion for the rights to the 2002 World Cup.
They soon discovered FIFA General Secretary Blatter and President Havelange were lying to them.
This is IMG executive Eric Drossart. He wrote to Blatter:
Sepp, it is very difficult to conclude anything other than there being two sets of rules in operation here, one for ISL and one for the rest … your responses to our efforts are merely a cosmetic exercise designed to protect FIFA from future accusations of unfair and improper competitive conduct."
[JW says: Read more about the 1995/96 TV-corruption – Play the Game and in my book Das Milliardenspiel.]
FIFA double-crossed IMG, ISL got the business and Blatter and Weber got closer.
Here's Sepp Blatter in 2004 with "The Bagman" – Jean Marie Weber.
From 2001 ISL, Weber, Blatter and the bribe-takers were investigated by this man – Investigating Magistrate Thomas Hildbrand. FIFA and Blatter did all they could to obstruct him.
In 2006 the BBC were investigating the ISL bribery scandal.
We sent emails to Blatter requesting an interview.
He ignored our emails.
So we went to see him.
We caught up with him on a public footpath near the old FIFA House on the day of a FIFA press conference.
I have been banned from FIFA since 2003 when I published a documented story revealing that Blatter pays himself a huge, secret, annual bonus.
[youtube 5HaZ2ykBjdE nolink]
JENNINGS: Please can I come into your press conference?

I said please may I come into your press conference?

BLATTER: When, now?

AJ: Yeah now.

BLATTER: Ok.

AJ: May I come in?

BLATTER: Yes ok.

AJ: But some of your press people won't always let me in.

BLATTER: I will take care of it. Okay?

AJ: I just want to put a question to you now because some of your press people don't let me get in, they bar me.

BLATTER: You come with me.

AJ: Let me just ask you this, do you know which football officials took bribes from the ISL Marketing Company?

BLATTER: Sorry, I don't speak about that.

AJ: Do you know which football officials took payments from the ISL Marketing Company?

BLATTER: I don't answer these questions. (…)

AJ: Have you tried to find out who took these payments from the ISL Marketing Company?

BLATTER: You know better than I know, you know better than I know.

AJ: You're the president of world football, I'm only a reporter.

BLATTER: No, listen, listen, you know better than I know. This is a file which is in the hands of the justice and the courts and it shall be there until …

AJ: Will you tell me who took the 1 million franc bribe? … I'm told you ordered this bribe should be moved to the man who's name is on the payment, can you tell me who it went to, was it President Havelange?
As soon as we stopped filming he refused me entry to his press conference.
Two years later I was at the courthouse in Zug. Six ISL executives were accused of trading while insolvent. The judge confronted Jean-Marie Weber: Did ISL pay around US$100 million in bribes to sports officials?
Yes, said Mr Weber.
For years I've been gathering evidence about corruption at the highest levels within FIFA. But there was one crucial document I couldn't get hold of. Then just over a month ago a trusted source delivered the goods.
It's a secret document, which some people at FIFA hoped could be kept buried forever.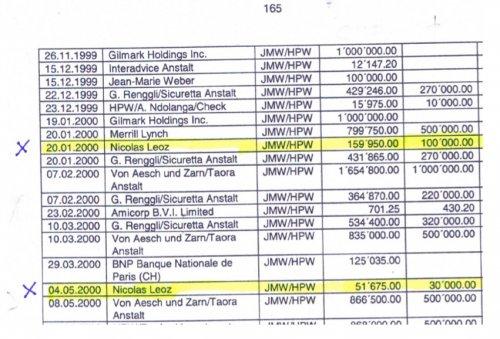 Line by line it details 175 secret payments, totalling tens of millions of dollars.
I know from well placed sources that the payments were bribes.
Among the list of names. Some senior FIFA officials.
This is real money, massive kickbacks on World Cup contracts.
Havelange owes a lot to Blatter. On March 3 1997 ISL made a terrible mistake. They sent a bribe for 1.5 million Swiss francs – around US$1 million – intended for President Havelange – direct to FIFA's bank account!
I tell this story in the first chapter of my book and in BBC films. Here's the evidence, from ISL files:
FIFA general secretary Sepp Blatter ordered the money transferred quickly to a Havelange private account. He denies it ever happened.
How much did FIFA president Joao Havelange take in bribes?
My guess is in excess of US$50 million. Did he pay tax in Brazil on this money?
I will now move on to 3 other cases of bribes paid to FIFA officials. The BBC sent each man at least 2 emails inviting them to grant interviews. They did not respond.
One of them is Issa Hayatou – well known to "The Bagman" Jean-Marie Weber. This is from my film of November 29 last year.
Mr Hayatou is a FIFA Vice President representing fifty-three African countries.
The list shows ISL paying him 100,000 French Francs.
Next to his name it says "barzahlung". German for cash payment
He didn't answer our letter either. This time I got a bit closer.
Mr Hayatou. Andrew Jennings we've met before. Could you spare me a moment?

I'd like to ask you about monies.

Please, please, please.
We've looked. The ISL books show that you received money from the ISL books.
That's what the lists say. They say you received money, Issa.
Your name is in the books from ISL. Your name is in the books for getting money that is why I am asking you.

Arrete please, out.

OK, yeah.
Then there's Nicolas Leoz from Paraguay. In court in Zug in 2008 we were told that he had received US$130,000 from ISL in the year 2000.
Then I obtained the complete list – and discovered that Mr Leoz had pocketed a lot more
Thanks to this secret list of payments we've obtained, never revealed in open court, we can see that Mr Leoz got a great deal more.
The ISL list shows he received three further payments.
One of two hundred thousand dollars.
Another one of two hundred thousand.
And yet another one.
That's a further 600,000 dollars worth of bribes for Mr Leoz
We wrote asking him to explain the payments. He didn't respond so I tried to catch up with him at a luxury hotel in Zurich.
Senor Leoz, senor Leoz. Did you take bribes from the ISL company?

Senor Leoz, (Spanish translation of above)

Si or Non?
Senators – you will remember that in 2001 you published your report of an investigation into Ricardo Teixeira and the CBF.
You discovered that Teixeira and his company were receiving money from a company in Liechtenstein named Sanud.
Here's a random page from that report.
I understand that your investigation could not find out where Sanud got its money from.
I discovered that Sanud's money came from the ISL company.
Here's a few extracts from the company bribe list
In November last year I caught up with him. This is what the world has watched.
[youtube NI0Rb1yTjpM nolink]
JENNINGS: Here's another Liechtenstein company, named Sanud.

It got 21 payments totalling 9.5 million dollars.

This time there are some clues about who got the money.

They point to the most significant person linked to our secret document. He's another member of FIFA's executive committee.

And the man in charge of the next World Cup, in Brazil in 2014.

Panorama has met him before

In 1998 we tried to ask him about his role in sponsorship deals for Brazil's national team.

You don't want to talk about football.

I would like to talk about football.

No more answers. No more questions. Bye, bye.

But we've got new questions, because that Liechtenstein company, Sanud, has been closely linked to him in the past.

An inquiry by the Brazilian senate in 2001 found that funds from Sanud had been secretly channeled to Mr Teixeira.

So did the 9.5 million dollars on our list end up in his pocket as well?

We wrote to Mr Teixeira and asked. He didn't reply either.

Hello Mr Teixeira. Could we talk to you please?

So I went back to FIFA's hotel in Zurich to ask him.

Did you take your bribes through the Sanud company?

What were those payments from the ISL company for?

Mr Teixeria.

Oh dear.
Swiss Magistrate Thomas Hildbrand discovered enough evidence to prove that 2 FIFA officials took ISL bribes – and that Blatter had covered it up. In May 2010 he announced that the case had been settled. Here's his public statement:
Investigating Magistrate Thomas Hildbrand in August 2008 began an investigation into allegations that certain members of FIFA's Executive Committee received kickbacks on marketing contracts. After five years of inquiries the accused agreed to repay 5.5million Francs and the case was closed."
Who were the accused? They are Blatter, Teixeira and Havelange. They have paid a small fortune to have their names kept secret.
But they cannot. The BBC and several Swiss newspapers are fighting a legal battle to have Hildbrand's report published.
Blatter, Havelange and Teixeira are resisting – and here are the Swiss lawyers for clients B1, B2 and B3.
I know this because the BBC receives copies of all correspondence.
B1 is Blatter and Fifa, represented by lawyers Nobel & Hug
B2 is Ricardo Teixeira, represented by law firm Schweiger
B3 is Joao Havelange, represented by law firm Niedermann.
Last week the Public Prosecutor in Zug rejected the arguments of Blatter, Teixeira and Havelange.
The big question now is: Will Blatter, Teixeira and Havelange continue to fight for suppression?
Our lawyers say it is inevitable that the Swiss Supreme court will order disclosure in the public interest – although it may take another 12 months.
Then you will have a massive international scandal hanging over your world Cup. Two Brazilians and President Blatter.
Thank you.
[JW says: As far as I heard the long Q & A session with Senators and AJ in Brasilia has produced much more details – and fun.]