Extensive whistleblower testimony provided to SPORT & POLITICS shows Football Queensland (FQ) to be riven by allegations of sexual misconduct, racism, bullying and sexism.
It is alleged that its President Ben Richardson – who we revealed in August to have lied extensively on his CV ahead of the federation's election – rose to office off the back of a mishandled sexual misconduct case.
Further allegations include:
misuse of funds
culture of paranoia and fear
racism
sexism
faulty HR and recruitment processes
They further bring into question why Football Federation Australia (FFA) has not intervened in the ongoing saga of a state federation that seems to be out of control.
Instead, we understand that the FFA CEO, James Johnson, has partnered with Football Queensland in a pilot project on governance.
Christmas hijinks
When Football Queensland's staff and directors gather at the Wilston home of its CEO Robert Cavallucci this Friday (11 December) for the organisation's Christmas party, the bosses of the troubled state federation will be hoping that the event passes more peaceably than the Christmas Party it staged two years ago.
Hosted at the Pineapple Hotel near the Gabba, Football Queensland's 2018 Christmas party was a boozy, raucous and fun affair. The state federation had flown down members from its zones for a day of meetings, which were to be concluded with a night of partying. The Pineapple has been serving food and booze to Brisbanites for 150 years and offers 'signature steaks, pub classics, woodfired pizzas and bar snacks' to its patrons. Its bar, it boasts, 'projects gentlemanly character mixed with a good dash of larrikin.' Although it was still only November, everyone was enjoying themselves.
But at the president's table, the conversation took on a more sordid complexion. A female member of staff had attracted the attention of Glenn Smith, then president, who was deep in conversation with another board member, Tony Davis.
'He made a lewd and disgusting comment about the size of her breasts,' said a FQ staffer.
The staff member who was subject of this unwanted attention wasn't present at the table, but two other colleagues were. Appalled by the conduct of the organisation's president they reported the comments to Football Queensland's then CEO Richard Griffiths.
As soon as they returned to work, Griffiths sought the legal opinion of Football Queensland's in-house lawyers Mullins. Because the matter concerned a direct report, it is understood that Griffiths considered this a 'CEO matter'. Mullins' view was that Smith relinquish his position as president.
This would have brought a swift and seemingly logical end to the matter and some solace to the female member of staff, who was kept in the dark on the board's orders about what had been said about her. When she found out several months later, according to colleagues she was 'distressed' that her ultimate boss was still in a position of power and hadn't, in fact, even apologised.
But one person was seemingly unhappy about outcome Mullins' view. Ben Richardson, at the time a Football Queensland board member, 'took umbrage' – alleges a Football Queensland executive at the time – at Mullins' position on the basis that it was 'an internal board matter'.
Another source aware of these discussions says: 'Richardson was – perhaps correctly – of the view that as it involved a Board member the matter needed to be dealt with by the Board with an independent investigator.'
We have asked Richardson to explain his rationale for not simply accepting the lawyers' view that Smith relinquish his position, but he has not answered our questions.
Griffiths argued that it was a HR issue and that it needed to be addressed with the staff member, if only to prevent future legal action.
But the director's position prevailed: Griffiths was specifically instructed by Richardson not to address the member of staff on this issue while an external HR advisor launched a second investigation.
This second investigation was carried out a cost of $12.5k. Sources with knowledge of the investigation allege that it was flawed: it is claimed just two people were interviewed by the advisor while senior staff members, including Richard Griffiths, were not consulted at all.
Nevertheless, the investigator made a number of recommendations on the basis of this limited inquiry: that Smith step down as president, apologise for making the sexually inappropriate remarks, but be allowed retain his place on the board.
A high ranking Football Queensland source says: 'The 'investigation' was a farce and the final outcome was hidden behind the constitutional requirement that only the members can terminate a director's tenure on the Board prior to an election.'
Some eight months after the event the female staff member finally received her apology, but confided in colleagues her 'extreme discomfort' at still having to deal with both Smith and Davis.
The king is dead, long live the king
Smith's demotion left a vacancy at the top of Football Queensland. Director Llew Jury briefly took up the role, but himself stood aside after just weeks in the job. Another director man was less shy about taking on the role.
Step forward Ben Richardson.
---
We have detailed Richardson's 'meteoric' career and his baseless legal attacks on whistleblower and author Bonita Mersiades in a series of articles:
You should also read and watch (starts at 5:25) Josh Robertson's excellent reports on ABC:
Football Queensland's members' fees only went up a few dollars, but they weren't told where the money was going
It was only an extra few dollars for kids playing soccer, but it added up to a big pay hike for the new CEO. More tonight. #abc730 @jrojourno https://t.co/tCEFvfY7R8

— abc730 (@abc730) November 25, 2020
---
Benjamin Richardson, the new boss of Football Queensland, was not slow in making changes:
In August 2019, Richard Griffiths was summoned to an early morning meeting at PwC's offices in downtown Brisbane.
The accounting and consulting giant was the workplace of Football Queensland's newest director, Robert Cavallucci, a high flier and real estate partner with the firm. Griffiths had personally enlisted Cavallucci onto the FQ board.
What happened that morning shocked Griffiths and Football Queensland staff.
Cavallucci was awaiting Griffiths in the PwC boardroom along with Ben Richardson. The meeting was short and brutal. Just 18 months into his job, Griffiths was being fired. Cavallucci, Griffiths told friends, barely made eye contact.
On the other side of town at FQ's HQ, the CEO's email and IT access was immediately revoked and his personal belongings collected up.
Griffiths, a popular boss, was never allowed back into the building, or given the courtesy of saying goodbye to his staff. Friends say he was distraught at his dismissal and that his mental health was impacted by it.
By most accounts Griffiths had done a reasonable job. Reserves stood at more than $2 million and he had done much to redress the very poor reputation Football Queensland had amongst its grassroots members. Griffiths, who is highly experienced in senior management roles in the AFL code, had first been brought in to bring a 'new lens' from a different sport. But this brought him into conflict with the board, who didn't like that or, sources say, his observations on the body's poor governance.
Many Football Queensland colleagues were outraged by his dismissal and there was talk of a strike. In the eight months following Griffiths' sacking, FQ had a staff turnover of 60 per cent.
CEO Search
Ben Richardson meanwhile temporarily assumed some of Griffiths' duties at Football Queensland. He was supported by a senior management team of chief operating officer, Murray Bird, chief finance officer, Michelle Matthewson, and marketing manager, Tracey Griersen and Gabor Ganczer – talent, technical and coaching.
Richardson has been variously described to us as an 'odd character', 'mystery man' and someone 'who makes you feel uncomfortable in his presence'. Yet other staff were grateful that he was apparently volunteering his time to an organisation where morale was at an historic low.
Chief amongst Richardson's tasks was finding a replacement for the man he had sacked.
On 9 September 2019 the CEO role was advertised with a pay scale of up to $200,000. Richardson, despite recent difficulties with some of his businesses, including an insolvency that left a trail of debts, was an experienced HR man and Football Queensland were lucky to have someone working for free on hiring a top class replacement within its budget.
Except as we now know, Richardson wasn't working for free – he later invoiced $44,000 for his HR work and asked a staff member not to disclose his invoice. And despite receiving 150 resumes and shortlisting 15 candidates, Richardson was struggling to find the right person for the vacant CEO role.
By late October, these 150 candidates had been whittled down to two. But Richardson was still concerned about the money on offer and Michelle Matthewson was called upon to provide a revised budget.
This was presented on 28 October and allowed for the new CEO to be paid up to $250,000. But the new, higher salary was predicated on increases to player registration fees.
Recruitment guru
Four days later the Football Queensland board met. There were a number of matters on the agenda. One was the increase in player registration fees, which the board adopted.
Next was the new CEO.
Here the recruitment skills of its HR guru president Ben Richardson kicked in. He had a candidate for the CEO job. From the pool of 150 candidates, the perfect person for the job had sat amongst them all along. In fact he was literally there in the room.
Step forward Robert Cavallucci!
What's more they had a salary offer he couldn't possibly refuse: $300,000 – just $50,000 more than had been put forward in Matthewson's budget, and $100,000 more than was originally advertised.
But when this extraordinarily generous offer was made to Cavallucci on 5 November he didn't immediately accept. Instead he insisted on negotiating. Luckily Football Queensland had ace negotiator Ben Richardson on hand.
Cavallucci's final salary was fixed at $317,000 – 58.5% more than the advertised range and roughly 88% more than his predecessor.
Perhaps Cavallucci was wise to negotiate his salary upwards. After all he was taking over an organisation in the midst of a staff crisis.
Chaotic organisation
Mass resignations and sackings – 17 of 28 staff members in the period after Griffiths' departure according to sources – had left morale rock bottom and bred a chaotic atmosphere. Staff have complained of intense stress and a culture of bullying and paranoia in the wake of several sackings.
One former employee was described as 'suicidal' after leaving their role.
Another said of the board: 'It compromised my values working with these shysters … They were so far removed from the realities of governance. They just don't have the mental capacity … I was glad to get out.'
Football Queensland's chaotic recruitment policies did little to alleviate this pressure. One job in late-2019 went unfilled after a board member is alleged to have objected to the strongest candidate because she was a 'single mother' and her childcare requests were a problem. The board member wanted to readvertise, but the interviews were done again – under the watch of Cavallucci – and the favoured candidate was belatedly appointed. The overruled objections were, of course, against all equal opportunities best practise and law.
Sexism appears to be endemic at board level. A whistleblower said of a board member:
'His sexism was a regular joke amongst staff … he would walk past three men to ask a women to make a cup of tea for him … everyone just shook their heads.'
When the marketing shortfall in women's football was discussed, another board member suggested: 'Why don't we get a tampon company to sponsor the women's league?'
Casual racism at board and executive level was also alleged to be a problem. Although Football Queensland have recently unveiled programmes to improve inclusivity among the Aboriginal community, this was in spite of board members' opposition. 'We don't need Indigenous players in our sport' said one.
A senior executive disparaged an employee of African descent behind his back 'for keeping African time.' The colleague who he made these remarks to described themselves 'deeply shocked and 'disgusted' by them. We asked the Nigerian journalist and lawyer Osasu Obayiuwana, a member of FIFA's now disbanded anti racism task force, what he thought of the 'African time' comment, and he described it as 'snide and distasteful'.
Unique pressures
August 2020: Step forward eight months and Richardson and Cavallucci are engaged in a pointless and spurious defamation action against the activist and writer, Bonita Mersiades, for exposing some of these uncomfortable truths.
Meanwhile, Queensland's football community is in a state of mutiny.
For several weeks we wake up to our inboxes filled with allegations and whistleblower testimony about wrongdoing at Football Queensland. We look at every single one of them.
FFA, the Queensland Government, so-called sports integrity organisations, on the other hand, do nothing.
This is a problem, because amidst this carnage is very real damage being done to the sport. This is the story of a game betrayed and there is only so much that we do from Europe.
In particular, we are concerned that Football Queensland's hard earned financial reserves are being emptied into lawyers' bank accounts to pursue Richardson and Cavallucci's futile legal cases. When we seek clarification on whether this is the case we are stonewalled – as indeed are other news organisations – so can only expect the worst.
We had earlier been informed that PR consultants Rowland had been engaged at $500 per hour following publication of Mersiades's factually accurate story in January. The source who provided us with that information has since moved on so we don't know what else has been wasted on propaganda, but soon after our stories are published Football Queensland hire Anacta Strategies as political lobbyists. At what cost we do not know.
Football Queensland has a new independent director, however, a sports lawyer named Paula Robinson, who has worked at board level on a number of sports organisations. She seems to be a cut above the dinosaurs that preside over Football Queensland, so we reach out to her and have a friendly off the record chat, in which many of the concerns and allegations expressed in this article are discussed.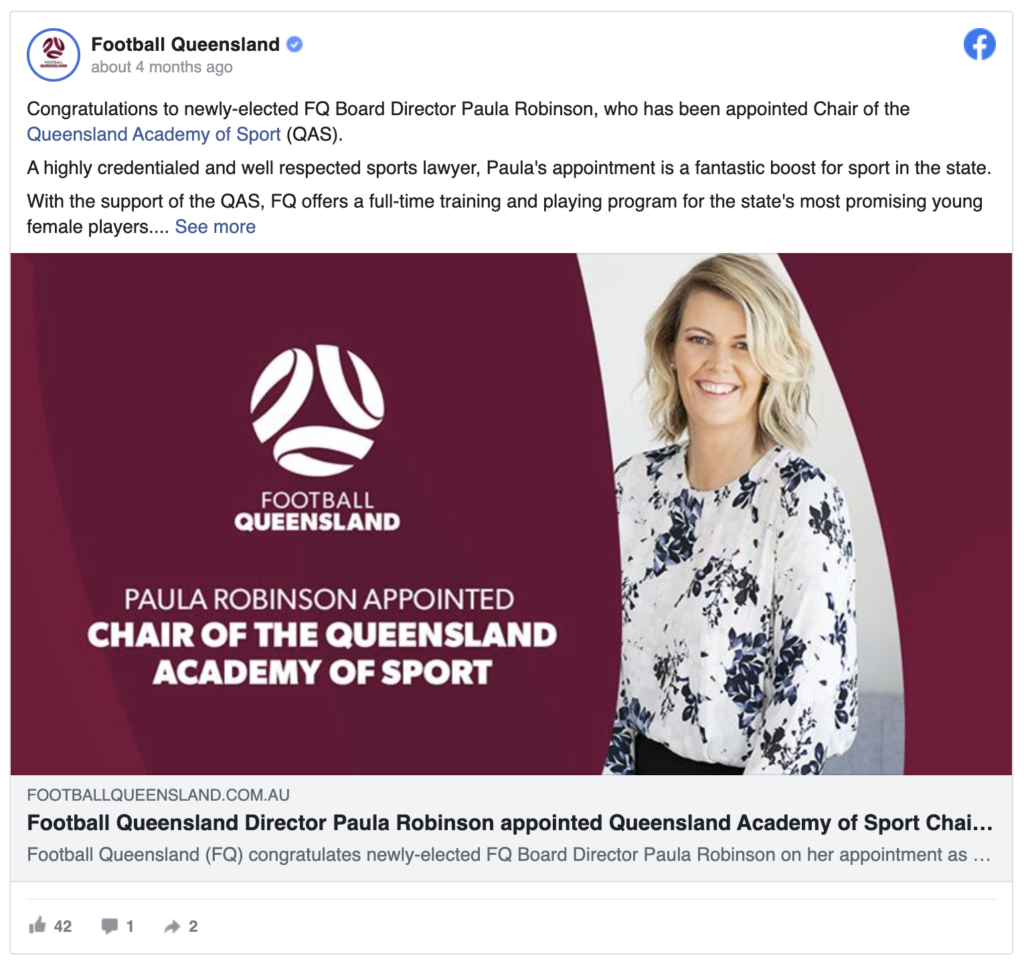 Robinson is noncommittal on many of the points, including direct questions about who is funding the defamation case and Ben Richardson lying on his CV ahead of an election. She asks for further information on certain points.
Nevertheless, as journalists we have a duty to protect our sources and make sure that any information passed on is treated seriously and whistleblowers are looked after. We ask Robinson what guarantees she can give.
A fortnight later, on 11 September, she responds with Football Queensland's whistleblower policy. Good news! Except it seems that this had been cut and pasted from a template and signed off within 24 hours of our first conversation. Moreover, all complaints need to be passed through the CEO, Cavallucci, or head of HR.
We point out that the whistleblower policy is useless and goes against all best practice. Australia's Securities and Investments Commission (ASIC) guidelines state that a policy should relate to current and former employees and others, even extending to family members, and protection should be afforded to all of them.
The Football Queensland policy only offers protection if the individual identifies themselves, which is totally inappropriate. Whistleblowers should be allowed to be anonymous. As for having the CEO and the Head of HR as the contacts, this is contrary to all best practice and is particularly ignorant of the context within which whistleblower policy should operate. We tell her that it is inadequate and we would not recommend anyone come forward. We suggest she amends it.
There is no word from Robinson, but on 2 October a gushing blog interview is published in which we learn that the decision for Robinson to stand for election to the board is closely linked to her association with the organisation's President Ben Richardson.
'Ben has been encouraging me to put my hand up for a while … he has asked me to consider it a number of times,' she admits. Richardson, who doesn't ordinarily respond to basic media requests, even makes an appearance, expressing 'joy' at her election.
So much for independence.
Concerned that confidences have been breached we email Robinson, asking her to confirm that she has acted in an ethical way.
Her subsequent silence spoke volumes.