Those were the days …
"Mahatma Gandhi said: all through history, there have been tyrants", said Chaguanas West MP and ex-FIFA vice president Jack Warner. "But in the end, they fall."
Irony is lost on Warner, the former history teacher who became a millionaire football official but is now fighting extradition to the United States. So too satire, if one judges from his hilarious attempt to besmirch the intentions of the United States Department of Justice on the basis of an Onion article.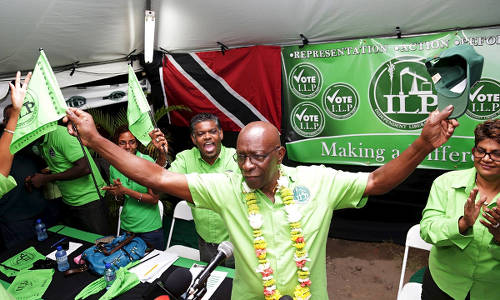 But then most things bounced off the football official who was once called "Teflon Jack." He, after all, once backtracked on a vow with the memorable catchphrase: "Yesterday was yesterday, today was today."
And, throughout his career, he has shrugged off his own lies—such as his denial about overselling the National Stadium on 19 November 1989 or his ownership of the CONCACAF Centre of Excellence—with the most outrageous bravado.
In essence, Warner is and has always been a salesman. And he knows the one thing that matters most to the person on the other side of the table is not his CV.
Often, all that counts is his response to the time question: "What is in it for me?"
Whether Warner was speaking to impoverished constituents in Chaguanas West or a would-be Prime Minister, activist Wayne Kublalsingh or FIFA president Sepp Blatter, DOMA head Gregory Aboud or acting Police Commissioner Stephen Williams; he invariably tended to offer the right answer.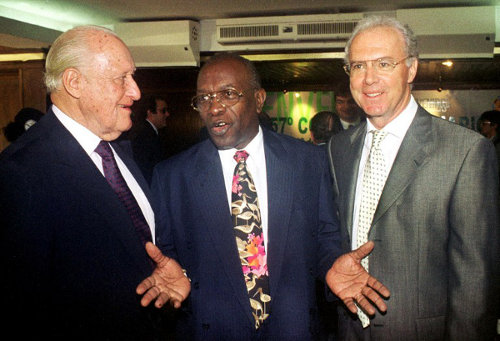 And, in what is almost certainly his farewell tour, Warner has, at least temporarily, regained control of his narrative, as he pitches up tent in tiny speaking areas throughout the country in his hardest sell of all time.
Warner is a wanted man who must convince the law to protect him. He is a greedy, allegedly crooked, multi-millionaire politician who must convince the people that he has their interests at heart.
He is a rejected administrator, grounded on a tiny two island republic in the southernmost Caribbean, who must convince the world that he is still capable of rocking the most powerful single-sport governing body on the planet.
And he is a political reject who must strike fear—but, somehow, not hate—in the colleagues who exiled him, two years ago, but are his last chance of escaping an international warrant.
Love him or loathe him, it is impossible to ignore him.
On Wednesday evening, Warner paid the country's major television station to essentially relay a threat to Prime Minister Kamla Persad-Bissessar.
"I have, as promised, compiled a comprehensive and detailed series of documents including cheques and corroborated statements," he said, "and placed them in different hands… In so doing, I have placed the outcome of those matters beyond even my own reach.
"Retracting them is now an impossibility; there can be no turning back."
He went on:
"These documents treated my knowledge and involvement in certain matters:
the link between FIFA, its funding and me; the link between FIFA, its funding and the United National Congress and the People's Partnership Government in (the) general elections 2010; these documents deal with the section 34 fiasco; they also deal with my knowledge of financial transactions at FIFA, including but not limited to its president Mr Sepp Blatter. And, lastly, other matters involving the nation's Prime Minister."
Those documents, Warner claimed, are in the hands of four different people. And he explained the circumstances under which they would enter the public domain.
"I will therefore release—or if I am incarcerated or even dead—I will therefore release (the information through) those persons who have the evidence on my behalf," said Warner, at a subsequent political meeting last night in Battoo Lands, Marabella.
Two things are, arguably, evident in Warner's statement.
First, he views his knowledge of Trinidad and Tobago and FIFA politics as no more than leverage for his own personal gain.
"I've never viewed myself as anything but a proud patriot," said Warner, while simultaneously denying the country vital information with regards to its governance.
Secondly, he recognises that only the threat of an exposé, rather than the act itself, can save him now.
Warner is not trying to bring down Persad-Bissessar's Government, even though it might look that way. He is trying to get their attention and protection.
Once he delivered his threat, he needed to demonstrate his ability to carry it out; a demonstration of his continuing influence. This is not easy for a politician who failed to even reach the 12.5 percent polling threshold needed for an invitation from the T&T Debates Commission (TTDC) to a leadership debate.
At Marabella, it was easy to do a headcount of the people who turned up for the political meeting on the tiny street.
There were 50 supporters seated under ILP's two tents and another 15 persons whose attire and demeanour suggested they represented the administrative arm of the party. Outside of the tents, there were just under 100 people milling about and half of them were journalists.
For a man on the edge and liberally spouting threats at a time when FIFA is crumbling and the PP is desperately clinging to power, the sparse audience suggested that Warner is not half the crowd-puller he once was.
But he will back himself to change that soon.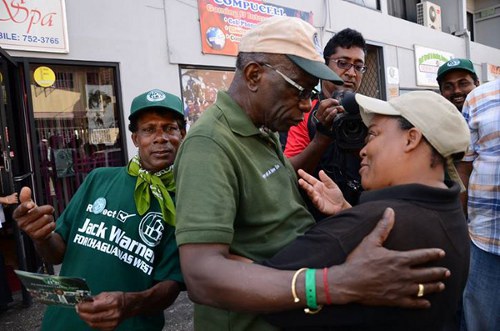 As always, Warner was modestly attired. He wore a black trousers with a green ILP shirt and matching suede shoes that looked worn but not old. There were two simple rings—one a wedding band—and a tasteful gold bracelet as well as the customary baseball hat, which meant to soften his image in much the same way as sporting a shirt with no tie.
His left hand, which he often lay on the podium, trembled as he spoke. God knows what physical condition this 72-year-old man, famed for long hours without sleep, might be in with an Interpol notice on his head, the US Attorney General on his back, the fruit of his loin—Daryan and Daryll Warner at his throat—and his former Parliamentary colleagues sneaking up from behind with knives.
"My family is now experiencing a turbulent future to the pleasure of some and the despair of others," said Warner. "They have a hatred of Jack Warner… The smallest country with a vice president of FIFA for over 15 years; and they don't see that as a plus you know.
"They see that as a reason for condemnation."
Warner spoke of his own mortality more freely than is his custom and even engaged in some rare self-pity.
"Neemakarams!" his supporters roared at identified critics.
But he stayed true to character in using witty put-downs as his main party piece. For instance, he described Sport Minister Brent Sancho, a former World Cup 2006 player and long-time adversary, as a man who got one million dollars to score an own goal and let England striker Peter Crouch play with his hair.
The small crowd was in stitches. At times, they finished his sentences or goaded him on.
It is worth mentioning that Warner, despite his speech impediment, is one of the country's foremost public speakers. He rarely repeats himself or rambles, he uses colourful analogies and earthy language, his voice is warm and vibrant and he releases snappy soundbites as regularly and efficiently as champion boxers use their jab.
"If you want to know your friends, just spend one night in jail," said Warner.
The small crowd, who obviously know about rough times, cheered and nodded sagely at each other.
Warner warmed to his own narrative as the poor black boy who had done well for himself and his friends, only to be betrayed by the system. Last night, the system meant Persad-Bissessar more than it did Blatter.
"If she can say (that she did not receive funding from me) not once, not twice but three times…" said Warner, with a mournful shake of his head.
"That is Judas!" shouted one supporter, who warmed to the theme.
He claimed that he paid three month's rent for Persad-Bissessar at a house in Santa Margarita, soon after she became Prime Minister. And there were the usual flashes of cheques sent to UNC's advertising agency, Ross Advertising.
"Kama-liar!" screamed one woman.
And that he allegedly paid for the schooling of Leader of Government Business Roodal Moonilal's wife in London.
"Skeleton come out with no clothes!" shouted an excited listener.
But, most of all, he portrayed himself as the man of the people who never forgot where he came from; and a person whose only sin was supposedly learning the game too well.
"Who he thief from?" one woman rhetorically asked her companion. "You?! He thief from England!"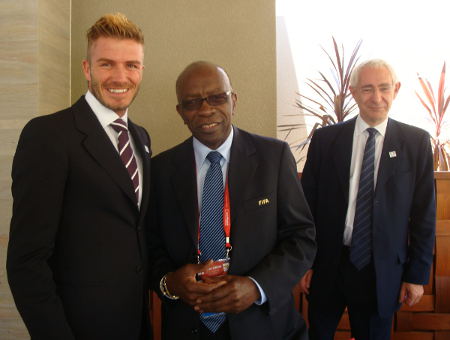 No harm there, then. Warner's skullduggery within FIFA's hallways was every bit as charming to his loyal fans as Diego Maradona's handled goal against England was for so many Argentina supporters, during and after the 1986 World Cup.
Warner was throwing tidbits for the international press now.
He compared disgraced Qatari football official Mohamed Bin Hammam's "gift" of US$40,000 to Caribbean delegates, in the lead up to the 2011 FIFA presidential election, to the England FA's earlier courting of him.
In his inimitable way, Warner declared himself innocent of wrongdoing while simultaneously suggesting, if he was guilty, his critics were just as bad.
"Of what difference is it between Bin Hammam and the English national team coming here to play Trinidad and Tobago?" asked Warner. "What is the difference between Bin Hammam and (David) Beckham having coaching clinics at the Centre of Excellence?
"But the problem is in 2011, a Muslim was brought against Blatter. And the second thing was a Muslim caused the US to lose the (World Cup) bid.
"Because, as far as they are concerned, Muslims are not important…"
Warner is believed to have been gifted the television rights when England met Trinidad and Tobago in an international friendly on 1 June 2008. And England's World Cup bidding team was evasive when asked financial questions about Beckham's six-day camp in 2010.
Andy Anson, CEO of the 2018 World Cup bidding team, said the cost of the clinic was "for David Beckham to answer" when asked by this reporter then.
Phil Mepham, media coordinator for the 2018 bid, said: "The cost is irrelevant. We are not getting into that."
While Beckham explained: "I don't know how much it costs, but as long as the kids are happy…"
FIFA's "Rules of Conduct" for World Cup bids, at the time, forbade not only monetary gifts but also: "any benefit, opportunity, promise, remuneration or service to any of such individuals, in connection with the bidding process."
Warner further insisted that Qatar was only as guilty of buying the World Cup as everyone else.
"The Arabic world paid as much money for FIFA (World Cup) rights as anybody else," said Warner.
Warner then suggested that financial inducements were part of FIFA's culture while, at the same, denying their existence.
"When Bin Hammam came here, what he did or didn't do was not inconsistent with FIFA practice for over 100 years," said Warner. "South Africa didn't give me any $10 million bribe… Each media is trying to outdo the other and write nonsense."
It was not enough to rattle anyone in FIFA's corridors. But why would he wish to do so?
FIFA allowed him to keep the Centre of excellence without legal challenge, after all, and that is almost certainly his main source of income at the moment.
Four years after his threatened "tsunami" that would wash Blatter away, he still has not uttered an incriminating word of substance about the 2018 and 2022 World Cup bids or any other meaty scandal during his tenure.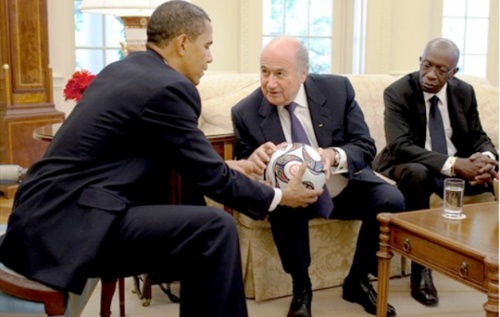 Yet, four years on, he can still draw as much foreign reporters to the country as the Carnival season.
He claimed that he emailed Blatter to "empathise" over his shock FIFA resignation and suggested the Swiss should leave immediately, rather than stick around to potentially "cook the books" before his departure.
"I said Mr Blatter I empathise with you," said Warner. "Because I was in 2011 where you are today. The only difference is you caused my demise but I didn't cause yours.
"And I will say more on that…"
All over the globe, editors booked plane tickets to Port of Spain for their ace reporters. But if Warner wanted to spill the beans on FIFA, he would have done so years ago.
And, if he does have incrimination information not already known to US authorities, it will be used as leverage in a FBI interrogation room, not given to a journalist—no matter the presumed gravity of his employer. He is merely name-dropping with intent.
With no army of people to build trenches around his compound, as they did for Tivoli Gardens drug lord Christopher "Dudus" Coke in Jamaica, Warner is trying to use the foreign media as his cloak instead.
In an election year, Persad-Bissessar cannot help but notice that Warner's utterances travel much farther than hers. The football official hopes that this uncomfortable fact buys him the same perceived protection that UNC financiers Ishwar Galbaransingh and Steve Ferguson enjoy from US lawmen.
So, Warner must continue this charade, feeding hilarious and absurd soundbites woven around kernels of truth.
"Nobody in this country, nobody in this country, nobody in this country could ever say anywhere, anytime," said the self-declared Arouca 'Robin Hood', "that I put my hand in this nation's treasury!"
The crowd roared with approval.
"Never!"
Local journalists tried to keep a straight face.
Mostly, he reiterated that he was only bad as every else, if even that.
"How come LifeSport, nobody concerned about that?" asked Warner. "A fellah get 40 million dollars to teach. What they said about that? Nothing. But they are concerned about FIFA's money…
"Take care the hole they build for Jack Warner, they fall in it!"
He continued.
"No contractor alive or dead can say they gave me a kickback," said Warner. "Everything I have now I had before politics. But there are some guys in politics now who had nothing before."
Little Warner says on FIFA or the Government stands up to scrutiny. But his narrative is consistent and he does not break character.
He is the poor boy done good in a cut-throat industry, who is forever punching upwards. Such an image, if you fall prey to it, will not be shaken by news that he took the millions in cash or kind which Australia or England were gullible or crooked enough to toss in his direction.
If news that Warner allegedly failed to relay relief funds for Haiti, after its devastating 2010 earthquake did not cause him to immediately become a pariah, then there is no convincing his supporters now.
But Warner's followers are thinner than ever. The pressure exerted on the Government for his extradition is immense. And, presumably, the local and international press will realise, sooner or later, that they are just pawns in his game of thrones.
"I have decided, under these circumstances, to no longer to keep secrets for them who now seek to actively destroy the country in which I live," said Warner. "I have decided, under these circumstances, to no longer to keep secrets for them who now seek to actively destroy this country's hard-won international image.
"At the age of 72 years old, I have no intention to allow them to deprive me of my freedom."
The last sentence is the key. Warner is not trying to destroy anyone; he is trying to save himself.
And, like a cornered cat, he is doing his best impression of a lion.
* * *
Crossposting from Wire868 – thank you Lasana!