Vorab zur Einstimmung: Das sind Fußball-WM-Tickets, die Jack Warner & Konsorten, die seit vielen Jahren mit Tickets in großem Stil dealen (Fußball-WM, Fußball-EM, Cricket-WM, Olympia) und fantastische Geschäfte und Millionen machen, mal nicht abgesetzt haben. Es sind, natürlich, Originale.
In der Mitte ist der Name eines Ticketdealers vermerkt: Paul "Chet" Greene, ein Fifa-Freund, ein Warner-Buddy, inzwischen NOK-Präsident von Antigua, aber das ist mal eine andere Geschichte…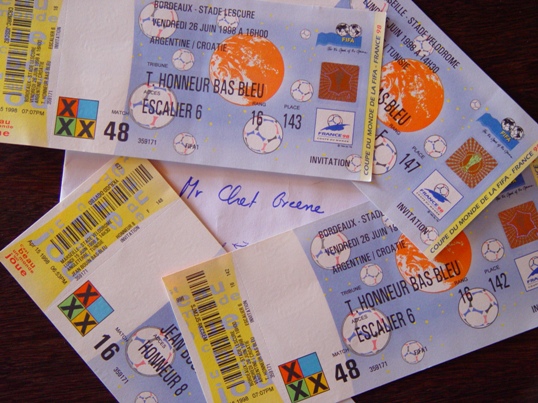 Denn: Es gibt Neues von einem meiner Lieblingsfunktionäre.
Natürlich handelt es sich um einen Fußballfunktionär, einen ganz wichtigen sogar. Der Fifa-Vizepräsident und allmächtige CONCACAF-Despot Jack Austin Warner, in der Branche wegen seiner brutalen Abzockerqualitäten auch "Jack the Ripper" genannt, mag die "Soca Warriors" immer noch nicht entlohnen, wie es sich gehört.
Mein Freund Andrew Jennings hat der unendlichen Geschichte von Gier, Betrug, Vetternwirtschaft Unterschlagung und Korruption unter Fußballfunktionären ein weiteres Kapitel hinzugefügt, das ich gern mit freundlicher Genehmigung veröffentliche. In Kurzfassung ist die Geschichte heute im Glasgower Sunday Herald erschienen (pdf gibt es hier), auf AJ's Website finden sich etliche Dokumente dazu.
Und hier folgt nach dem Jennings-Stück noch das wunderbare Kapitel unseres gemeinsamen Freundes Lasana Liburd, freier Journalist aus T&T, aus dem Buch "Korruption im Sport".
Ich weiß, das ist ein bisschen viel zu lesen, aber es ist ja ein Sonntagnachmittag, den man lieber daheim verbringen sollte. Zum Beispiel mit dieser Lektüre.
Lasana, das sei kurz gesagt für alle, die hier noch nicht so oft vorbei geschaut haben, wurde Anfang 2006 nach einigen Enthüllungsgeschichten über die Machenschaften von Jack the Ripper von selbigem Fußballganoven mit dem Entzug der Akkreditierung für die WM 2006 bestraft. Was Solidarität ausmachen kann: Nach Protesten von Journalisten – und weil der damalige Fifa-Medien­ver­ant­wort­liche Andreas Herren im Gegensatz zu anderen eben doch ein gutes Herz hat – wurde Lasana letztlich aber doch als WM-Reporter zugelassen. Zum Ärger des Blatter-Stimmenbeschaffers Jack, der es in wenigen Jahren auf märchenhafte Weise vom karg entlohnten Geschichtslehrer zum Multimillionär und einem der einflussreichsten Männer der Karibik gebracht hat.
Okay, aber ich schweife ab, alles passt nicht in einen Blogeintrag. Hier also der jüngste Streich von AJ mit meiner letzten Vorbemerkung: Mir fällt nichts ein, was sich nicht mit Originaldokumenten belegen ließe.
* * *
Jack Warner still won't pay Soca Warriors their 2006 World Cup money

exclusive: Andrew Jennings

The 2006 World Cup generated billions of dollars – but not a cent has been paid to the heroic Soca Warriors from Trinidad & Tobago who say they've been ripped off by FIFA vice-president Jack Warner.

Twenty-eight months after the final whistle the team from the smallest country ever to qualify are still being denied their share of revenues from sponsors and other sources, despite defeating Warner at an arbitration hearing.

As soon as it looked likely Trinidad would qualify for Germany the Warner family put their football money-making machine into gear.

At the travel agents owned by Warner and his wife Maureen, son Daryan began acquiring, illicitly with daddy's help, more than 5,000 finals tickets later sold for an estimated $3 million profit.

Other son Daryll Warner was put in charge of a private company, 'Local Organising Company Germany 2006 Ltd' which would vacuum up millions of dollars in fees from sponsors wanting to be associated with the Warriors.

Warner Snr, who terms himself 'Special Advisor' to the Trinidad football federation, would negotiate directly with the players about their share of the proceeds.

In early January 2006 Warner installed himself at the super-luxury five-star Mandarin Hotel in Mayfair ("One of the capital's most distinguished hotels") and the players were summoned to his presence. They wanted to know, what had sponsors paid? What other income from tickets, TV and the government? I'll have a spreadsheet drawn up, promised Warner.

The months pass, the team trains but the promised spreadsheet doesn't appear. 'Soon' promises Warner. 'We're working on it,' say his aides. Days before the Warriors' first game, against Sweden, goalkeeper Shaka Hislop asks Warner yet again. 'Sorry,' says Jack, 'no time now until after the tournament is over.'

Nonetheless the team play brilliantly to hold Sweden to a goalless draw. Then the festering anger boils up. Every time they touch the ball they're making money for Warner – and getting nothing themselves. They demand Warner come to their hotel but he arrives so late most – but not all – have gone to bed.

One player told me, 'Warner still hadn't told us how much sponsors were paying and what our share was going to be. Many of our squad play in minor leagues around the world, don't earn much, had worked hard to get to the final 32 teams. Their reasonable expectation was enough to set up pension funds, retire with some dignity.'

Warner must have realised that if he didn't calm them fast, he might not have a team for the game against England in three days time. OK, he said. I'll give you 50% – and I'm so proud of your achievements.

The Warriors could hold up their heads after losing 2-0 to the millionaire England players and lost no respect going down another two goals to Paraguay – and then packed their bags.

More months passed. Small creatures lived out their life cycles and the leaves fell. Then in October Warner's accountant produced the long-awaited spreadsheet.

It was surprisingly short. 'Consistent with normal accounting principles we have made estimates in such instances where specific documentation was unavailable.' There were more holes. Sponsors appeared to have paid less than their earlier press releases claimed. Some sponsors – and their money – had fallen off the page.

And another surprise! One third of their money was being withheld to fund the next campaign, to qualify for 2010. Warner insisted that sponsors had insisted – until the claim became so lacking in credibility that he abandoned it, gracelessly.

But here was the bottom line: Warner had sold their bodies for millions – and their share was £494 a man!

Dwight Yorke told reporters, 'The contracts we enter into are not worth the paper they are written on.' The majority of the squad hired London sports lawyer Mike Townley. Warner promptly blacklisted them saying, 'I lose no sleep, I have nothing to be worried about, absolutely nothing.' For players needing regular international games to keep work permits, it was a disaster.

Jack's crony Trinidad Federation general secretary Richard Groden accused the team of 'delinquency' and 'less than honourable motives.' Warner added that they were 'greedy'.

Six more months passed and in mid-2007 Warner popped up to commend his officials (code for himself) for their 'principled stand in resisting being blackmailed by certain players.' He added, 'Their demands are not justified and until they drop all court action, they remain outside the pale of organised football.'

Lawyer Townley turned to FIFA. Was this a case for FIFA's Ethics Committee, chair Seb Coe? No, Townley was told, it's an internal matter, we refer you to Jack Warner to sort it out.

Townley made a Freedom of Information request to the Trinidad Government. That brought another surprise. Warner had neglected to reveal the additional £18 million contributed by taxpayers to the campaign's cost – freeing up more money for the players.

It wasn't looking so good for Warner at home so he agreed to switch the dispute from a Trinidad courtroom to arbitration in faraway London.

That hearing was at the end of April this year and its confidential Decision was passed to both parties on May 19. The Warriors won all they asked for, disclosure of all contracts and revenues raked in by the Warners and 50% of the total. The Warriors were looking to get – at last – the big money they are owed.

Within hours the report was leaked to the Trinidad Guardian whose sports editor has written two paid-for biographies of Warner that find no fault in him – ever.

Warner claimed to be shocked. The other side must have leaked! Such an outrageous breach of confidence must nullify the arbitration decision. So he still won't pay and he still won't disclose. To muddy the waters more Warner has offered some money to the Warriors who didn't hire a lawyer and is going to court in Trinidad in January to get the arbitration award cancelled.

There's not been a peep from sponsors Adidas, KFC, Ebay, Carib beer, British Gas and a host of regional companies who gained lustre from the efforts of the Warriors.

It will be a chilly Christmas for some of the Heroes of 2006.
Zwei Links zum Betrug an den Soca Warriors:
Und hier das Kapitel aus "Korruption im Sport"
The Jack Warner production

How a humble school teacher became a multimillionaire

by Lasana Liburd

Jack Austin Warner, FIFA Vice President and Trinidad and Tobago Football Federation (T&TFF) special advisor, was getting fed up by January 2006. He had only just taken Trinidad and Tobago to the senior World Cup finals – his and only his words – for the first time in the country's history. Forget six foot seven defender Dennis Lawrence, who scored the winning goal in Bahrain to send the self-titled Soca Warriors to the World Cup; forget team captain Dwight Yorke and impressive newcomer Aurtis Whitley or even wily Dutch coach Leo Beenhakker. It was Warner's administrative genius that made it all possible – a premise that centred on his influence as President of the North American and Caribbean Confederation CONCACAF in getting an extra half place for the CONCACAF region, via a Play Off with the fifth placed Asian team.

How could Trinidad and Tobago show its gratitude for Warner's work behind the scenes? Perhaps, the ruling People's National Movement (PNM) party would bestow on him a national award or statue and his peers might sing his praises with clever calypsos. Those would be nice. But Warner generally prefers cash; lots of it.

Everyone gets the shaft

The dust had barely settled on Trinidad and Tobago's historic qualification for the Germany World Cup last November before Warner requested a blank cheque from the local government – to help the team prepare, of course. The government balked and was promptly criticised for lacking patriotism and being ignorant of the necessary ingredients to create a successful team. Patriotism and football success, you see, come at a high cost and Warner has appointed himself collector.

At 63 years of age, Warner has known only two careers. He worked as a school teacher, which carries a salary between the range of TT$ 4.000 (523 Euros) and TT$ 12.000 (1.569 Euros) in Trinidad and Tobago, and a football administrator. Yet, six years ago, his personal worth was estimated at upwards of £10 million (14.4 million Euros) by one British magazine. He can easily be worth double that today from the living he earns through the "beautiful game", the world's most popular sport.

Warner is, by his own admission, a liar and a thief. He admitted in his biography to overselling Trinidad's National Stadium by over 10.000 tickets for a crucial qualifier in 1989 when the football team came within one point of the 1990 World Cup. It created an explosive situation on November 19, 1989, with the stadium packed well beyond its capacity and transformed into a potential death trap while thousands of irate fans remonstrated outside the ground. The then government, the National Alliance for Reconstruction (NAR), ordered an inquiry into the fiasco although it was never completed. By then, Warner was promoted to the position of FIFA Vice President and had the political clout to slow his pursuers as well as the ability to source funds through which he could soften his image.

The "Warner production" was on the road starring the T&TFF special advisor – he created the position himself – as "Robin Hoodlum". A well-intentioned sport administrator operating in a world filled with wealthy, arrogant European bigwigs who he would hold upside down by their ankles and deprive of their largesse for the sake of the poorer Caribbean nations. Sort of like "Shaft", a fictional 'Afro-American' hero, who battled the powers-that-be on behalf of his downtrodden "brothers".

In 2000, as Germany and England fought for hosting rights for the 2006 World Cup, Warner strutted around the Caribbean offering European gifts and photo opportunities with Bobby Charlton and Franz Beckenbauer.

"What do you want? Is that all? Don't worry… Germany will pay for it."

Only, with Warner, everyone gets the shaft.

Certain cheques and balances?

In 2001, the tiny twin island republic with a population of just over 1.3 million, prepared to stage the FIFA Under-17 World Championship. Trinidad and Tobago would get the first opportunity to glimpse the starlets of the future like Argentina's Carlos Tevez and Spain's Fernando Torres.

Just stare spellbound at the technique on show on the fields and smile into the television cameras. Whatever you do, God forbid, do not look behind you. If you did, you might have spotted Warner pocketing multi-million dollar deals from IT and catering to travel and security contracts.

He must reminisce with fondness on construction deal for the World Cup stadia, though. His performance would have sent shivers up the spines of most sales agents.

First, Warner convinced the PNM that such an important tournament (chuckle, chuckle) must have the very best facilities and so the government approved the construction of four new stadia and the renovation of the national stadium at a cost of TT$ 140 million (18.3 million Euros). These four stadia were built minutes away from existing grounds that needed merely another stand or two and a coat of paint to pass FIFA standards. But the government, who clearly did not see the state of the Mexican grounds that hosted the 1986 World Cup, agreed to Warner's proposal.

Then Warner benefited from a stroke of good fortune. The PNM was replaced by the United National Congress (UNC) as the country's ruling party. Warner is a chief financier of the UNC party.

"Can I have another look at that budget, Mr Prime Minister?"

A few scribbles later and the cost of four new stadia and the renovation of a fifth shot from TT$ 140 million (18.3 million Euros) to TT$ 365 million (47.7 million Euros). The price hike, according to the UNC, was due to the inclusion of necessary fittings such as lights, seats and – cue drum roll – playing fields. What Warner exactly had planned to build with the initial TT$ 140 million budget remains a mystery.

There was still a constitutional problem. The Trinidad and Tobago law requires that the use of State money comes with certain cheques and balances. Warner sidestepped this requirement by taking a bank loan with the RGM group of companies which the government agreed to repay. The deception was complete when, on October 27, 1999, a company named Concacaf – not to be confused with the confederation, CONCACAF – was formed in Trinidad under Warner's directorship while another company called the "FIFA Stadia Project" was set up to execute the stadium contracts. Warner and his son, Daryan, were both among the list of signatories on the latter company.

"Mr Warner, is FIFA in charge or your FIFA? Did you say that cheque was made out to CONCACAF or Concacaf?"

Needless to say, it was a very confusing time for anyone who tried to find out what Warner and FIFA was doing with State funds.

Today, the government – the PNM is again in power – repays that loan to the tune of TT$ 4 million (523.000 Euros) a month while UNC boss and ex-prime minister Basdeo Panday faces fraud charges for an unrelated matter in the local high court. Warner, for the record, is now the UNC's deputy political leader and openly supports Panday against criticism from even within the party's rank and file.

Another money machine: Simpaul's Travel Agency

Fast forward to November 2005; Warner's attempt to get unlimited access to State funds received a negative response. Unabashed, he turned his attention to the pockets of Trinidad and Tobago's football fans. On December 13, 2005, Warner announced in a T&TFF press conference that Simpaul's Travel Agency purchased the exclusive right to the nation's World Cup ticket allocation. A Simpaul representative then revealed that a batch of three first round tickets valued at TT$ 2.254 (295 Euros) would cost fans TT$ 30.000 (3.928 Euros) as part of a package deal that included twelve nights accommodation in a double-occupancy room – both guests pay full fare – but not airfare.

Simpaul's subsequent advertisements left no room for ambiguity: "Ticket or leave it!"

Warner stood to gain as much as TT$ 17.000 (2.223 Euros) profit for each package sold.

On December 25, 2005, the Trinidad Express Newspaper proved conclusively, in the first of a three-part series written by myself, that Warner and his wife, Maureen, and sons Daryan and Darryl, were the owners of Simpaul's Travel.

Warner might be adept at shaking Europeans from their ankles; but now here was proof that he was manhandling Trinidad and Tobago fans by the groin region. Angry letters crammed the opinion pages of balanced daily newspapers while irate fans besieged radio talk programs.

On January 3, 2006, Warner responded in a press conference. He referred to me as a "creature", an "inveterate liar" and a "political hatchet man". He admitted to owning Simpaul's Travel but denied a conflict of interest. And the ticket prices stood.

Prime Minister Patrick Manning, on January 6, suggested the possibility of government intervention on behalf of his citizens prompting a telling response from the administrator frustrated by his limited ability to cash in on the nation's euphoria. "If I knew this is what qualification (for Trinidad and Tobago) meant," said Warner. "I would have had second thoughts."

The T&TFF branded me "persona non grata" and I was denied the opportunity to apply for media accreditation for the 2006 World Cup. There was also a strong hint by the T&TFF that I forget about covering national football at any level in the future as well.

By now, though, the international media got wind of the scandal and FIFA was on the back foot.

On January 13, 2006, FIFA appointed Ernst and Young as "independent auditors" to look into discrepancies regarding global World Cup ticket sales. Days later, Warner was scheduled for a meeting with the FIFA Ethics and Fair Play Committee on February 16.

Warner made a bit of history for himself on February 16. He became the first FIFA executive committee member to be convicted of bringing the game into disrepute after the Ethics and Fair Play Committee ruled that he had violated its code of ethics and was guilty of a conflict of interests. FIFA's Executive Committee would decide on the penalty for Warner's crime in March which could be serious enough, by FIFA statutes, to merit expulsion.

The FIFA Press Office also accredited me for the 2006 World Cup. Not a good month for Warner.

But then Trinidad and Tobago's FIFA Vice President is not called "Teflon Warner" for nothing. One could almost sense the tide turning when German Local Organising Committee (LOC) chairman and football icon Franz Beckenbauer made light of the episode on a trip to Trinidad. "It's not our business," Beckenbauer told the T&T press. "Our business is to give the participating countries the tickets they deserve. What they are doing with the tickets, it's not our business."

Was this the extent of Europe's sympathy for disenfranchised Trinidad and Tobago fans? Or was Warner regarded as a special case and near untouchable within FIFA's corridors?

FIFA's blind eyes

Warner's influence is best evaluated in terms of his political power. CONCACAF has 35 nations. He boasts of the ability to direct 35 of them how to vote at FIFA elections. In a recent TV programme called "The untouchable", which was broadcasted in more then 20 countries, Warner has explained his total support for the FIFA President: "I have told Mr Blatter that whenever he is running for an election, he doesn't have to come to campaign in CONCACAF. He doesn't have to waste his time. CONCACAF has 35 votes – he gets 35 votes! I have told him to spend more time in the areas in which he has some doubts. And I will help him in those areas. We are benefiteries of FIFA's vision and therefore we believe that it is only fair that we show – from time to time – our loyalty. Simple as that."

Simple as that. Warner might claim to be ignorant about terms like 'conflict of interest' but he is quite capable at mathematics.

After his rise from nondescript referee to Trinidad and Tobago FA general secretary in 1973, Warner quickly grasped the potential of the Caribbean as a block. Mexico was easily CONCACAF's top football nation and similarly bossed the region at an administrative level. But the pervading feeling outside Mexico and Central America was that the region's Caribbean and English speaking nations were being neglected.Warner persuaded these nations that he would make a difference once given a presidential role. As CONCACAF president since 1990 he again used the region's support and, in particular, Caribbean islands who sometimes had populations as small as 15.000 persons, for political leverage within FIFA.

He ingratiated himself with FIFA's long-time President Joao Havelange and, when his successor Joseph Blatter faced a 'no confidence' motion, he again came to the rescue several times. The payback, it seemed, was a consistent blind eye to his wheeling's within the CONCACAF region.

Warner seemed confident enough in March 2006 that his connections would not let him down and went as far as to chide the global body for its handling of the situation.

"I asked FIFA for advice, and they give the advice I asked them for to the world," said Warner, who insisted that he initiated a meeting with the Ethics Committee. "I have to deal with that in March. I have been associated with all kinds of memories before, and it wouldn't be the last time, it won't be the first time. It hasn't fazed me in the least. And believe me, I am okay. I'll land on my feet. Right now, I'll tell you this, though, I'm not trembling in my shoes."

The storm clouds that threatened to envelop Warner at one stage were quickly disappearing. True to form, Warner emerged unscathed from his date with the FIFA Executive Committee in March which declared that is was "satisfied" that Warner would live up to ticket regulations. The special advisor even went through the trouble of removing his name and those of his family from Simpaul's list of directors although there is little evidence that the legal change was more than merely cosmetic.

A buoyant Warner immediately celebrated by printing full page advertisements in the local papers toasting his own virtuosity and mocking the cynics "masquerading as sport writers" who had briefly troubled him.

Much more moneybags

So did any good come from the sordid episode?

Well, in the midst of FIFA's declared investigation, Trinidad and Tobago fans woke up to news of how they might apply for World Cup tickets at virtually cost price. Not a world of Simpaul's Travel although they continued to offer all-inclusive packages.

Perhaps, Warner might emerge chaster for the flirtation with danger and the shock of his sudden dip in popularity.

At the very least, Trinidad and Tobago fans could once more look forward to the World Cup without such ugly distractions. The national team reunites in Trinidad for the first time since its qualification and supporters are anxious to salute their heroes in a May 10 friendly against Peru. It will cost them an unprecedented amount of money to do so, though. Tickets are on sale for TT$ 300 or 39 Euros (uncovered stands) and TT$ 500 or 65 Euros (covered stands) which represents more than a one hundred percent increase from the qualifying stage when tickets cost TT$ 100 (13 Euros) and TT$ 200 (26 Euros).

To put Warner's proposed ticket prices into perspective, English fans will pay £25 or 36 Euros to watch England play Jamaica in May while German friendly's against other nations who, unlike Peru, will actually play in the 2006 World Cup range between TT$ 115 (15 Euros) and TT$ 458 (60 Euros). In Germany, mind you, the average wage is TT$ 15.910 or 2.083 Euros per month as opposed to TT$ 3.500 or 458 Euros per month in Trinidad and Tobago.

The local government again asked Warner to be reasonable and pointed out that it had budgeted for the costs of staging the friendly in its TT$ 45 million budget for the team while the T&TFF also stood to receive at least TT$ 39 million in appearance fees from FIFA at the World Cup.

But Warner's hand is again stretching for the groin. FIFA's moneybags are being emptied too: Warner claimed that the TT$ 39 million (5 million Euros) FIFA payout for the World Cup qualification is subject to a 26 percent German tax. But I have asked FIFA and the German LOC – they denied any such tax on revenue paid to associations.

The more things change. The Jack Warner show continues.
Mehr über Jack Warner und seinen märchenhaften Aufstieg in den internationalen Fußball-Geldadel:
Lasana Liburds Artikel mit kompletter Dokumentation sind u.a. nachzulesen im Trinidad & Tobago Express
Jennings, A.: FOUL!!, Harper Collins 2006.
Kistner, T.; Weinreich, J.: "Das Milliardenspiel" – Fußball, Geld und Medien, Fischer Taschenbuch Verlag 1998.
Sugden, J.; Tomlinson, A.: Badfellas – FIFA Family at War, Mainstream Publishing 2003.
Die Welt: "Jack the Ripper im Verhör" (17. Februar 2006, Seite 20); "Krähen unter sich" (6. März 2006, Seite 23); "FIFA hilft Vizechef im WM-Kartenskandal aus der Bredouille" (20. März 2006, Seite 24).
Berliner Zeitung: "Ein ultra-fantastischer Job" (2. Oktober 2001, Seite 40); "Ermittlungen gegen FIFA-Exekutivmitglied" (8. Juni 2002, Seite 39); "Joseph und seine Brüder" (22. Mai 2004, Magazin); "Hauptgewinn für Jack the Ripper" (7. Januar 2006, Seite 16).
Frankfurter Rundschau: "Jack the Ripper und der Fluch der Karibik" (14. Januar 2006, Seite 26).
Manager Magazin: "Schiebung im Spiel?" (1. Mai 2003, Seite 52).
Süddeutsche Zeitung: "Nur stark vermittelnd" (25. August 2001, Seite 42); "Gefahr für Jack the Ripper" (18. April 2002, Seite 31); "Warners Drohung" (19. April 2002, Seite 32); "Eine Orgel, die schön klingt" (22. April 2003, Seite 23); "Reise mit Jack the Ripper" (7. Januar 2006, Seite 40).
Weinreich, J.: "The untouchable". Schweden/Dänemark, 2004.
Und wenn ich schon mal kaum zu stoppen bin mit all den Verlinkungen, Quellen und Dokumenten – hier noch ein Dokument, damit es wieder was zu Lästern gibt über die merkwürdigen Usancen in anonymen Blogs:
Der junge Weinreich einst auf Recherche in der Karibik, opfert sich für seine Leser, knallhart auf den Spuren von Jack Warner und Chet Greene. Ich weiß es nicht mehr genau, aber ich glaube, das war die Coco Beach auf Antigua.