Tja, um kurz vor Mitternacht kommt die Meldung, die für mich die Nachricht des Tages ist. Ich finde, es ist eine Sensation, was das amerikanische Olympiakomitee USOC mitteilt:
Lopez Lomong Selected as Flag Bearer for 2008 U.S. Olympic Team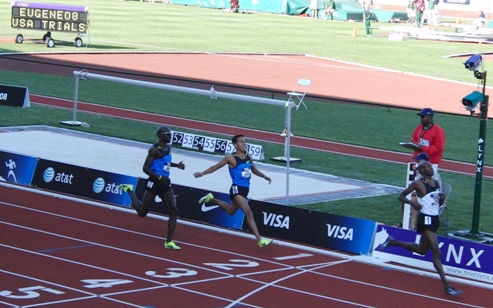 Das könnte ein heißes politisches Thema werden, denn Lopez Lomong, einer der Lost Boys of Sudan, über den ich aus Eugene und später noch einmal berichtet habe, unterstützt das Team Darfur.
Ausnahmsweise mal weite Teile einer Presseerklärung im Original:
The United States Olympic Committee (USOC) announced today that track & field athlete Lopez Lomong (Tully, N.Y.) has been selected as flag bearer for the 2008 U.S. Olympic Team by fellow members of Team USA. Lomong, 23, was notified of his selection Wednesday night via phone in Dalian, China, where he is training with the U.S. Olympic Track & Field Team. "This is the most exciting day ever in my life," Lomong said. "It's a great honor for me that my teammates chose to vote for me. The Opening Ceremony is the best day and the best moment of Olympic life. I'm here as an ambassador of my country and I will do everything I can to represent my country well."

To select the flag bearer, U.S. captains from each sport met in the Athlete Village Wednesday night, in person and via conference call for those not yet in Beijing. Any captain was able to bring forward a nominee from any sport. After the nominations and a discussion period, the athletes voted, selecting Lomong. Lomong will compete in the 1,500 meters in Beijing in what is his first international appearance. (…)

Lomong has overcome an overwhelming array of obstacles in becoming a top American middle distance runner. He was born in Sudan, fleeing the country when he was 6 years old and becoming separated from his family. He was sent to live in a refugee camp in Kenya for 10 years, and in 2000 he walked five miles to watch the Sydney Olympic Games on a black-and-white TV. It was then that his Olympic dream began. Watching U.S. track & field athlete Michael Johnson run, Lomong remarked that "I'd like to run like that guy." He wrote a moving essay in 2001 about what he would strive to accomplish if he lived in America, and his heartfelt words prompted officials to give him that chance. He was moved to the United States to live with a foster family in Tully, N.Y., and became a U.S. citizen in July 2007, a moment he says has changed his life forever.

"The American flag means everything in my life – everything that describes me, coming from another country and going through all of the stages that I have to become a U.S. citizen," Lomong said. "This is another amazing step for me in celebrating being an American. Seeing my fellow Americans coming behind me (in the Opening Ceremony) and supporting me will be a great honor – the highest honor. It's just a happy day. I don't even have the words to describe how happy I am."

"USA Track & Field congratulates Lopez in being selected for this incredible honor," said USATF CEO Doug Logan. "Few people better understand or reflect the American Dream and Olympic ideals than Lopez. What a great, great day for him and the entire Olympic Team."
Lopez Lomong, Sudan, Darfur – was dazu wohl die Chinesen sagen?