Are there any brave officials @fina1908, OCA, IOC … willing to stop the insane madness of co-conspirators Sheikh Ahmad and Captain Husain? pic.twitter.com/SvYYRPrZYX

— Jens Weinreich (@JensWeinreich) July 20, 2017
BUDAPEST. Is FINA at the crossroads to be targeted as an international crime syndicate by legal authorities in several countries? Can FINA's case develop to a FIFA-light criminal case? Will FINA's business be under the RICO act, too? The acronym RICO stands for the Racketeer Influenced and Corrupt Organizations Act, under which the criminal investigations of the DOJ, the FBI, the IRS and other authorities have been conducted. The investigations are going on and have reached a new level – an international level touching some major Olympic institutions: the IOC, OCA, FINA, AFC and others.
Stay tuned.
You may need some arguments to judge the developments in the FINA family and several signs of serious misconduct of FINA's First Vice President Husain Al-Musallam, known as The Captain, known as co-conspirator #3 in a spectacular FIFA indictment (the Richard Lai case), alongside of his boss at OCA and other institutions, co-conspirator #3 Sheikh Ahmad Al-Fahad Al-Sabah.
In case you missed the statement of the U.S. Department of Justice regarding the Lai case:
The guilty plea announced today is part of an investigation into corruption in international soccer being led by the U.S. Attorney's Office for the Eastern District of New York, the FBI New York Field Office, and the IRS-CI Los Angeles Field Office. The prosecutors in Brooklyn are receiving considerable assistance from attorneys in various parts of the Justice Department's Criminal Division in Washington, D.C., including the Office of International Affairs, the Organized Crime and Gang Section, the Money Laundering and Asset Recovery Section, and the Fraud Section, as well as from INTERPOL Washington. (…)

Stated Special Agent-in-Charge Rowe: "Co-conspirators may try to hide and launder the proceeds of their corrupt self-enrichment, but as mentioned in the legal documents filed today, IRS-CI Special Agents will trace and uncover those funds both through the U.S. financial system and beyond, to offshore jurisdictions in locations such as Asia, the Middle East, and around the globe."
Got it?
Special Agents will trace and uncover those funds both through the U.S. financial system and beyond, to offshore jurisdictions in locations such as Asia, the Middle East, and around the globe.
"We need to be transparent", says Husain Al-Musallam at the tape, who loves to speak about "10 per cent", which sounds like a bad joke – since co-conspirator #2 refuses to answer a single questions of journalists doing their job. At least he did not answer three emails with two dozens of questions I have sent him this week.
Instead of answering those questions of Craig Lord (swimvortex.com, The Times), Martyn Ziegler (The Times) and myself, Al-Musallam has used a website (insidethegames.biz) as his PR mouthpiece.
There is obviously a business relation existing between ANOC, OCA (both under control of their President Sheikh Ahmad and his aid Al-Musallam, co-conspirators #2 and #3). That is why one may ask if it has influenced the 'coverage'.
Anyway, I do have documents about payments (GBP 6,000) from at least one olympic IF president suggesting to get an 'interview' published at an olympic devoted website – and this is a topic of further investigation.
For now, I would like to share some basic information including the full Al-Musallam tape.
1) Listen to the Al-Musallam tape. This is the 20 min material, covered worldwide since Tuesday night. I did not cut anything. I did not changed anything, of course not:
2) Please study the Richard Lai indictment:
3) The best source on FINA politics is swimvortex.com, the website of my colleague Craig Lord:
4) Last night I raised the question whether or not Al-Musallam did use OCA funds/accounts to pay Richard Lai. Craig Lord raised the question, too. This is crucial and MUST alert IOC's Ethic Commission.
Misuse of OCA funds for bribery? Ask Husain Al-Musallam, guardian of IOC's $509m Olympic Solidarity fund https://t.co/zUSG47cqBR #FINA #FIFA

— Jens Weinreich (@JensWeinreich) July 20, 2017
5) Here is the full statement of Mohsen Rezvani, the president of I.R. Iran Swimming Federation. Mr Rezvani says that Al-Musallam's "allegations are intended to distract people's attention from the real matters at hand".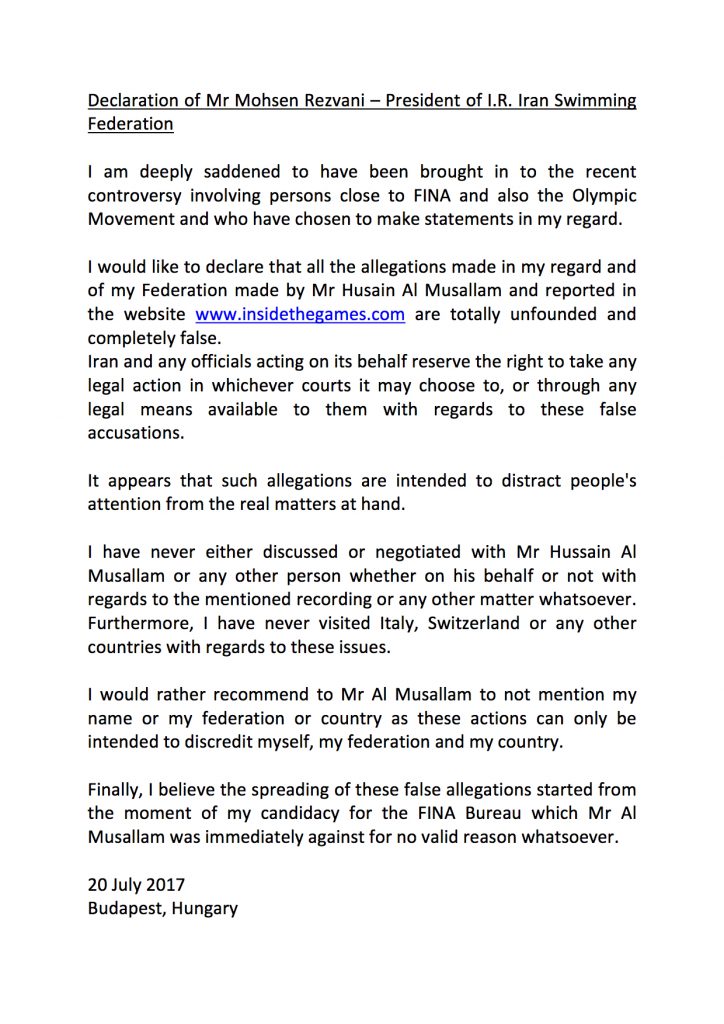 As co-conspirator #3, the dubious Captain, would probably say: This is all for the sake of transparency!
In case you may ask: I am not paid by Iranian Secret Service. What a joke.
Stay tuned.
FINA is at the crossroads.
What will 'zero tolerance' IOC president Thomas Bach do against Sheikh Ahmad, Husain Al-Musallam and other villains? Ooops, silly question. pic.twitter.com/ImKXaFB6rI

— Jens Weinreich (@JensWeinreich) July 20, 2017
* * *
Sie wollen preisgekrönten Recherchejournalismus finanzieren?
Hier geht es zum Sport and Politics Shop
. Dort können Sie mich für 
Vorträge und Seminare
 buchen. Dort können Sie das
Jahresticket
, ein
Drei-Monats-Ticket
oder ein
Abo der Sport and Politics Edition
buchen.
Wer einen kleinen Beitrag leisten will, kann das natürlich auch weiter gern tun. Via Flattr oder am besten per PayPal (paypal.me/SportandPolitics).