Im Jahr der olympischen Schurkenstaaten, mit Mega-Events in China und Katar, bei denen das IOC und die FIFA ekelhafte Allianzen mit Diktatoren eingehen, ist der einflussreichste investigative olympische Journalist aller Zeiten gestorben: Was würde Andrew Jennings tun im Jahr 2022? Was ist Journalismus und was Propaganda? Mein Editorial aus SPORT & POLITICS, Heft 3, der Andrew Jennings Edition. Die englische Variante, in diesem Fall das Original, gibt es an dieser Stelle.
Diese Episode würde AJ gefallen, da bin ich mir sicher. Er will, dass wir lachen. Also: Andrews Alter Ego Juan Antonio Samaranch Sr. hat akribisch Buch über seine Amtsgeschäfte als Präsident des Internationalen Olympischen Komitees führen lassen. 1997 hat das IOC dazu sogar ein Statistikbuch des schwedischen Sporthistorikers und Samaranch-Fans Wolf Lyberg veröffentlicht: The seventh President of the IOC – facts and figures. Es ist eines meiner Lieblingsbücher. Darin wurde so ziemlich alles aufgeführt, was die Menschheit dringend über das Tagesgeschäft und die ersten 17 Amtsjahre Samaranchs wissen wollte: 
An wie vielen Tagen Samaranch geflogen ist (2.116), die Anzahl seiner Reisetage (3.520), seiner Flugstunden (4.805), der verteilten Olympischen Orden (679), der zurückgelegten Kilometer (3.480.280), die Zahl der besuchten NOK (193) und der Staatsoberhäupter, Könige, Königinnen, Fürsten, Emire, Sultane und Premiers, denen er die Hand geschüttelt hat (179). Manche darunter, so hielt Lyberg offensichtlich begeistert fest, hatte Samaranch "vier oder gar sechs Mal besucht"!
Wow.
Warum ich daran erinnere?
Ich habe flink noch die Fotos von Samaranch gezählt, die in dem IOC-Büchlein gedruckt wurden: 92. Natürlich hat das IOC keine Fotos veröffentlicht, die Samaranch Sr. mit seinem verehrten Caudillo und mit ausgestrecktem rechten Arm zeigen.
In diesem Magazin zu Ehren von Andrew Jennings gibt es aktuell – im Moment, da ich diese Zeilen schreibe – mein Editorial muss noch bebildert werden, 29 Fotos von Andrew. Es werden vielleicht einige hinzu kommen.
92-29 also für Samaranch gegen Jennings. Ein souveräner Sieg.
Dafür finden sie in diesem Heft aber, das hätte Andrew gewollt, vier Fotos, die den Franquisten Samaranch so zeigen, wie das IOC ihn nie gezeigt hat. Und das gehört sich auch so.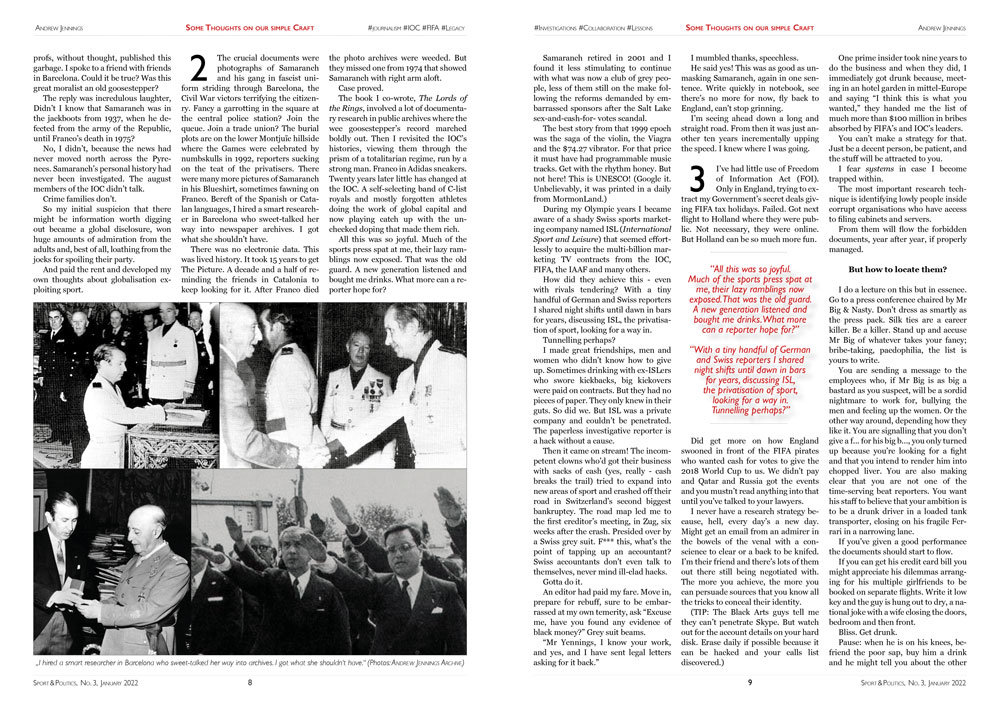 Wie gesagt, Andrew würde diese Statistik gefallen. Sie, liebe Leser, werden sich aber vielleicht fragen: Verdammt, warum beginnt dieser Weinreich seinen Text mit so einer blöden Statistik über Bilder?
Ich kann Ihnen darauf eine Antwort anbieten: Weil Andrew Jennings nicht nur ein Mann der Dokumente war, wie von vielen Autoren dieses Magazins zuallererst und zurecht beschrieben – Andrew war auch ein Mann der Bilder.
Neben dem Leitspruch get the documents!, von vielen Autoren oft beschrieben in diesem Heft, habe ich etwas anderes von Andrew gelernt, was ihm extrem wichtig war: we need colorful notes!
Ohne Dokumente hätte Andrew nie eine so fulminante Wirkung erreicht und mehrere Generationen von Journalisten prägen können. Ohne seine colorful notes aber auch nicht. Er hätte seine Leser, Zuhörer und Zuschauer sonst nie so mitreißen können. Dieser Aspekt wird oft vernachlässigt.