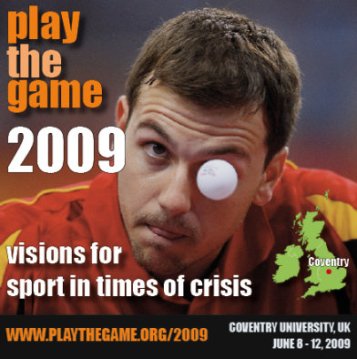 Jens Sejer Andersen hat es wieder geschafft. Von Montag bis Freitag (8.-12. Juni) findet zum sechsten Mal die Konferenz Play the Game statt – nach vier Mal Kopenhagen und ein Mal Reykjavik nun also in Coventry. Ich werde von dort berichten – und in der Coventry Cathedral mit Richard Pound (IOC), Mario Goijman (Volleygate), Christer Ahl (Handball/IHF), Robert Lloyd (One World Trust) und Lars Haue-Pedersen (TSE Consulting) auch über die Lage im olympischen Weltsport, über Wirksamkeit und Glaubwürdigkeit der 1999 vom IOC verabschiedeten Reformen diskutieren:
Ten years after the IOC reforms – the state of governance in sport
Mein Vortragsthema in Coventry hat Übersichts-Charakter, ist Stammlesern hier gut bekannt, international aber unbedingt verbreitungspflichtig, weil das Thema weltweit nur von sehr wenigen Journalisten konsequent behandelt worden ist:
The ISL bribery system: 138 million CHF for high-ranking officials in the Olympic world
In der Programmkommission von Play the Game habe ich minimalen Anteil an der Vorbereitung der Konferenz. Mein Fokus war auf die Auswertung der vorgeschlagenen Vortragsthemen und auf die Verpflichtung des AIBA-Präsidenten Ching-Kuo Wu gerichtet. Eigentlich war mit Wu alles klar, doch kurzfristig wurde wieder nichts aus der Teilnahme des Box-Präsidenten. Wu ist eines von zahlreichen IOC-Mitgliedern, die in den vergangenen Jahren Play the Game fernblieben. Richard Pound macht wieder einmal eine Ausnahme. Er lässt sich die Teilnahme an Konferenzen, die er für wichtig hält, von niemandem verbieten. Aber vielleicht sollte ich besser vorsichtiger sein und fomulieren: Ich hoffe, bei Pound kommt nicht noch etwas Überraschendes dazwischen.
Zur Einstimmung auf die Konferenz stelle ich hier gern ein Kapitel zur Verfügung, das Jens Sejer Andersen für unser gemeinsames Buch "Korruption im Sport" geschrieben hat. Ein Beitrag über Journalismus, die sagenhafte Sportfamilie und die Chancen eines weltweiten Netzwerkes:
Play the Game: Der ungleiche Kampf mit einer global operierenden Bewusstseins-Industrie 

Vier Worte auf einem kleinen gelben Zettel. So wenige Mittel reichen aus, wenn man jemanden davor warnen möchte, sich mit den Machthabern des Sports anzulegen.

Als wir an einem Sonntag Vormittag im November 2000 froh und gespannt in der Lobby des Kopenhagener Hotels "DGI byen" standen und unsere Gäste zur Konferenz Play the Game willkommen hießen, entdeckten wir etwas Ungewöhnliches: Unter einem der Namensschilder, die auf dem Willkommenstresen lagen, klebte ganz diskret einer der wohlbekannten kleinen gelben Merkzettel. Das Namensschild wartete darauf, dass sich sein rechtmäßiger Eigentümer, ein Journalist und Mitverfasser eines besonders kritischen Buches über die FIFA, anmeldete. Wären wir ihm nicht zufälligerweise zuvorgekommen, hätte er zusätzlich zur Willkommensmappe folgenden Gruß erhalten, anonym und in blauen Blockbuchstaben geschrieben: "WE ARE WATCHING YOU".

Es handelte sich hier kaum um einen anonymen Verehrer. Deshalb zogen wir den Gast aus Deutschland später zur Seite und machten ihn auf den Zettel aufmerksam. Es soll erwähnt werden, dass Jens Weinreich unbeschädigt von seinem Auftritt auf der Konferenz davon kam, aber für uns war die Episode nur noch eine Bestätigung dafür, dass die internationale Welt des Sports ein, milde gesagt, angespanntes Verhältnis zur Meinungsfreiheit und offenen Diskussion hat. Zwei Tage zuvor hatte einer der Hauptredner der Konferenz, der italienische Anti-Doping-Kämpfer Sandro Donati, eine niederschlagenden E-Mail mit der Überschrift "Conference bye bye" geschickt. Nach drei Wochen langem Tauziehen mit dem italienischen olympischen Komitee CONI, bei dem Donati als Forschungsleiter angestellt war, hatte er immer noch keine Ausreiseerlaubnis erhalten. Da CONI zur gleichen Zeit mit den elf Gerichtsverfahren beschäftigt war, die es im Laufe der Jahre gegen Donati eingeleitetet hatte, um ihn zu entlassen, traute Donati sich nicht, ohne CONI's Stempel in den Reiseunterlagen das Land zu verlassen. (Damals konnte er nicht wissen, dass er alle elf gewinnen würde!) Es brauchte einen Protest von den Teilnehmern der Konferenz und ein strenges Fax unserer Mitveranstalter im Internationalen Journalistenverband (IFJ), bevor CONI's Generalsekretär Raffaele Pagnozzi widerstrebend erklärte: "At this stage and having seen what has happened, Mr. Donati can, as free citizen, take part freely to any conference."

Die Erlaubnis kam so spät, dass wir Donati als allerletzten Punkt auf unsere Programmliste setzen mussten. Nach dem Drama um den führenden Dopingjäger dieser Welt wurde es ein unvergessliches Finale mit stehendem Applaus der Teilnehmer.

Wir hätten CONI eine Dankeskarte schicken sollen – für ihre Hauptrolle in der Planung einer so hervorragenden Dramaturgie. 

Totalitäre Züge – illegale Diskussionen

Die Beispiele des Jahres 2000 sind keine Einzelfälle. Nach nun vier Play-the-Game-Konferenzen für  Journalisten, Forscher und Sportfunktionäre, die alle Meinungsfreiheit und Demokratie im Weltsport fördern möchten, müssen wir feststellen, dass die Welt des Sports – die häufig von sich selbst und anderen als einer der Grundpfeiler der demokratischen Gesellschaft hervorgehoben wird – in Wirklichkeit eine Furcht vor dem freien Wort hat, die sonst totalitären Regierungsformen eigen ist. Bereits 1997 erlebten wir, wie der inzwischen verstorbene Präsident des Leichtathletik-Weltverbandes IAAF, Primo Nebiolo, norwegischen Athleten drohte, sie von der WM auszuschließen. Angeblich versuchte er dies auf Grund eines schon längst beigelegten Dopingprozesses. Laut internen Quellen im Verband aber war der wirkliche Grund, dass der frühere norwegische Athletikvorsitzende, Lars Martin Kaupang, während unserer allerersten Konferenz wenige Wochen vor der WM Nebiolos Führungsstil kritisiert hatte.

Auffällig war auch, als vier hervorragende Redner, die im Jahr 2002 definitiv zugesagt hatten, den Zustand in der FIFA zu diskutieren, einer nach dem anderen kurz zuvor, ja sogar während der Konferenz, absagten – mit dem Hinweis auf  "widersprüchliche Karriereinteressen", "wichtige Geschäftstreffen", "unvorhergesehene Vorkommnisse" und "den Rat meines Arztes, zur Zeit nicht zu fliegen".

An welche Art Regierungsform erinnert es, wenn der Volleyball-Weltverband FIVB als Antwort auf eine Einladung zur Konferenz im Jahr 2005 eine Diskussion über die Korruption im Verband als "illegal" erklärt und jedem einzelnen mit Namen genannten Mitglied des Play the Game-Vorstandes und -Programmkomitees damit droht, alle zulässigen Mittel gegen sie zu verwenden? Wir mussten den FIVB freundlich darauf hinweisen, dass es in Dänemark gesetzlich erlaubt ist, auf Konferenzen Reden zu halten.